It's true we are currently are (and have been since late May) in a very strong Seller's Market.  You have probably heard this in the news, but what does it mean?
It's pretty simple.  A Seller's Market takes place when demand is high and supply is low.  Currently, the inventory in New Jersey (and the rest of the country) is extremely low.  Today in New Jersey for every home for sale on the market, there are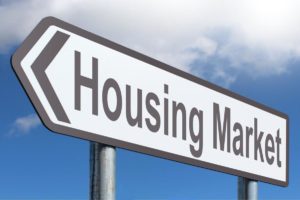 dozens if not hundreds of buyers looking to buy.
We're in a situation where there are many more buyers than there are homes for sale.  In this scenario, we are seeing homes coming on the market and having a myriad of showings immediately after hitting the MLS.  This is usually accompanied by several offers coming in, many times above list price.  This is simple supply and demand.  Fewer homes, more buyers, prices rise.
This is clearly a great time to sell! In many cases, the home won't be on the market for long. But, there are caveats that need to be considered.
For starters, we are in the middle of a pandemic, so if you're planning on selling, be prepared for having a lot of people in your house.
Make sure that you leave the house (take a ride around the block, go for a walk, get coffee, etc.) whenever you have buyers coming into the house.
Leave out bottles of hand sanitizer.
Make sure to wipe down doorknobs and surfaces with disinfectant before and after showings.
Open some windows after showings to get fresh air into the house.
Make sure that your agent instructs buyers agents that all parties must wear masks while in the home.
Your agent will let you know when you'll have showings.  Again, in this market be prepared to have multiple showings throughout the day.
Keep your home clean and presentable.
Sellers need to be prepared to review several offers.  Remember to consider everything when reviewing offers.  Sometimes the highest priced offer isn't always the best offer.  Terms and conditions (down payment, closing date, concessions, contingencies, etc.) can be more important than the dollar amount being offered.  Your agent can help you sort through the offers.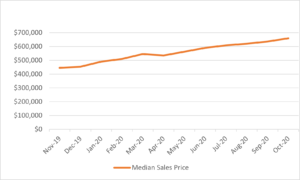 Is it a good time to buy a home? If the market is a strong sellers market, what does that mean for buyers?  The prices are high, inventory is low, and you're probably going to be competing with other buyers.  But even with all that, now is a GREAT time to buy a home.  Interest rates are at historically LOW levels, and with prices continuing to rise, waiting will likely result in your buying power decreasing.
For example, you're looking to buy a house that is priced at $350,000 and you're putting 5% down.  Let's assume that you're getting an interest rate of 2.75%, the property taxes on the home are $8,000 and your homeowner's insurance is $1000 per year.  Using those numbers, the monthly mortgage payment (principal, interest, taxes and insurance (homeowners and mortgage )) would be $2,342.92.  But what happens if the interest rates rise, let's say in a year rates are now 3.75% the monthly payment would now be $2,525.38.  A difference of almost $200 per month!
Besides the possibility of higher interest rates, home prices are rising, so assuming that prices rise about 5% (which is about average for New Jersey) the same home is now worth $367,500, using that price and a rate of 3.75%, the monthly payment would be $2,614.15, that's nearly $300 a month more that if you were to buy the same home today.  Over the life of the loan you'll end up paying an additional $97,642!  Is waiting a year worth paying almost $100,000 more than buying today?  That's another factor that you'll need to consider.
Hire a Professional! Whether you're interested in selling or buying a home, you'll want to have a professional working for you, looking out for your best interests and helping you navigate the transaction.  With me, you'll get a Broker-Associate with nearly 14 years of experience in the business to help you sell your home for the most money possible.  If you're buying you'll get my years of experience to help you negotiate the best deal to get you into your new dream home.
Don't wait!  Call me today and let's see how I can help you.
Ask about our FREE Buyer and Seller Guides.
Remember, with TeamZuhl, everything we touch turns to SOLD!!!