How to navigate it (whether buying or selling)
When cases of COVID-19 started popping up in our area, it wasn't long before things were shut down.  With the shutdown came a slowdown in the number of homes being sold, at least in the early part of the pandemic.  In March, April, and the first half of May, the numbers of contract sales (homes entering into Under Contract or Pending status) fell tremendously.  In April of 2020, there was less than half the number of homes entering into contract compared to April of 2019.
But as things began to reopen and Real Estate Professionals began showing properties while wearing masks, and exercising social distance, buyers began coming out.  And they didn't just come out to look, they ventured out looking to buy!  Suddenly, if a well-priced home came on the market it would see showings and multiple offers sometimes the day that it hit the market!  For example, we listed a 3 bedroom, 1 bath home on a dead-end street in Metuchen that had 30 showings and 12 offers in 3 days.  The home ended up selling for $12,000 over list price.  Another one of our listings in Roselle, had around 15 offers, some as high as $32,000 OVER list price.  We experienced bidding wars with the buyers we work with as well.  This led to a few disappointments, but with some coaching, most of our buyers were able to win their bids and get their dream homes.
So, why the bidding wars? Urban flight! Some people are claiming that it's not real, but we have the reasons and the numbers to prove that is part of what is going on.  Simply put, people in urban areas are tired of living on top of each other, people want more living space for their families and they want to experience the amenities that accompany suburban living.  As more and more people are now working remotely, there is less need for "easy access" to NYC.  Additionally, with interest rates being at historic lows, it is far less expensive to pay a mortgage to own a home in the suburbs than to pay rent for an apartment in the city.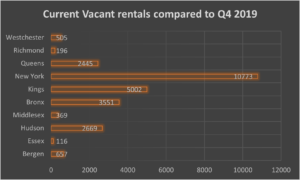 Here's the data behind this reasoning:  In the Greater New York City Area (NYC's 5 boroughs, Westchester County, Bergen County, and Hudson County) has seen rental vacancies rise tremendously.  The 3rd quarter of 2020 has nearly 26,000 more rental vacancies than during the 4th quarter of 2019.  Clearly, the data shows that people are leaving the NYC Metro area.  Based on year over year contract sales since mid-May, June, and then July of 2020 became record-setting months for having the most homes go into contract.  In fact, June, July, and August of 2020 saw more homes sold in any June, July or August ever in NJ.  August saw 15,343 homes go under contract, the most homes to do so ever in the NJ. For comparison, August of 2019 had only 11,185 homes go under contract, meaning that more than 4000 more homes were sold in August of 2020 than August 2019, an increase of 73%!!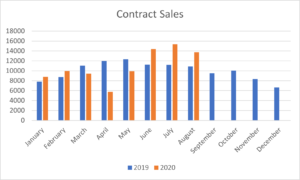 Based on the rate of sales it appears that 2020 will see MORE homes sell than in 2019, and 2019 saw a record number of homes sold in NJ.  The experts are predicting that this Urban Flight will continue for the next several years, sending NJ into record sales numbers higher and higher.
So, what does it all mean? Well, that depends on whether you are considering buying or selling a home.
If you're buying, it's important to work with an agent who is a skilled negotiator and who can help you determine the current market value for a home and if necessary, help you figure out how much higher than market value you may need to go to be the winning bid. It's important to have your financials ready, get pre-qualified or even better pre-approved for a mortgage and make sure that your down payment and closing cost funds are easily accessed and that you can provide documentation of where the monies are held.  Not having to sell a property to make the purchase, known as a contingency, will work in your favor. You can still have a contingency, but if you do, make sure that your home is listed, priced right, and hopefully already under contract.
If you're selling, be prepared for a lot of people to be coming through your home.  Make sure that your listing agent is marketing your home well, and the best thing that you can do is to price your home right! An overpriced home usually only has one bidder, the seller.  In this market, we're suggesting pricing your home 2-3% less than market value to expose it to the most possible buyers.  Doing this will in most cases result in showings and multiple offers, usually well over list price.
If you're interested in buying or selling a home, please reach out to me for a free, no-obligation consultation.  Remember, with Team Zuhl, everything we touch turns to SOLD!!!
Some source data was provided by Otteau Group, a Real Estate Valuation & Advisory Company.
All opinions, information and data provided is deemed reliable but is subject to errors and omissions. Not intended to solicit other Brokers' clients. We cooperate with them fully.