Homeowners and home buyers in Linden are smart to learn about the real estate market to help make an informed decision about when to buy and sell a home in Linden .
Here's what's been happening lately.
Inventory:
26 homes were sold in Linden in December, which is significantly lower than the 12 month average of 35 homes per month.  Slower sales are not unusual for this time of year. November of 2019 saw only 25 sales. Sales ought to pick up once the weather picks up.
There are 112 homes offered for sale in Linden today – compared to the 12 month average of 152 homes and compared to 163 homes that were on the market in December of last year.
As inventory shrinks, demand for homes usually increases. This can help to raise prices and/or shorten the length of time homes are on the market.
Inventory and sales are variable  monthly as shown by the peaks and valleys in the graph above. Some variability can also be attributed to homes that are more desirable or less desirable than the average Linden home. Homes that are in exceptional condition or well priced won't stay on the market long, whereas distressed properties or homes in disrepair stay around longer and cause data variations. Even conditions such as weather affect home sales – fewer buyers are out looking on days that are oppressively hot or rainy.
Realtors use an analysis called Months of Inventory  to evaluate the real estate market. The Months of Inventory is equal to how long it would take to sell the existing inventory if no new houses were put on the market.  When the Months of Inventory is below four months, realtors call it a seller's market because the supply is relatively low so sellers have a stronger position in negotiations between a buyer and a seller. When the Months of Inventory is above seven months, realtors call it a buyer's market because the supply is relatively high and buyers have a stronger position in negotiations. Months of Inventory between four and seven is considered a normal market with a good balance of buyers and sellers.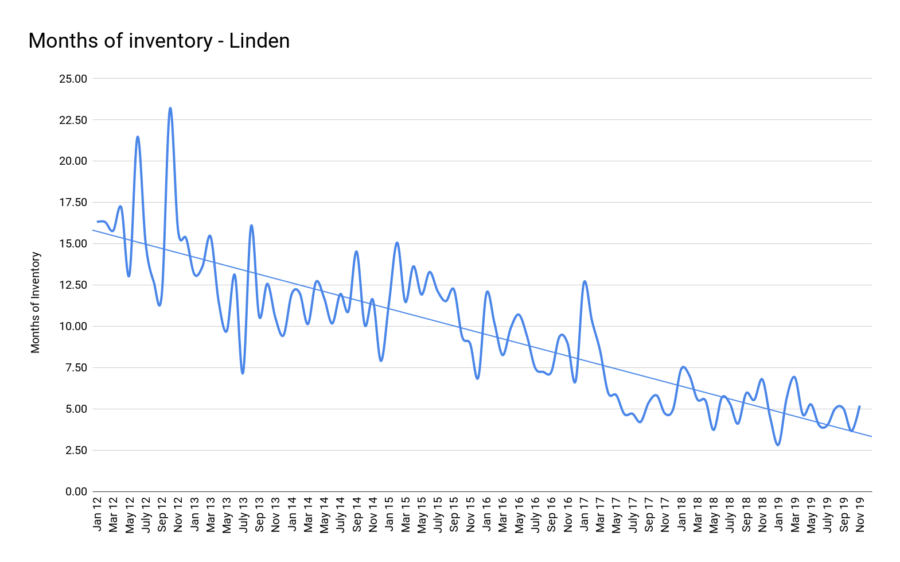 Linden is currently experiencing a normal market holding 4.31 months of inventory.
Prices:
Average sale price in Linden in December was $294,919 -roughly equal to the 12 month average of $294,437.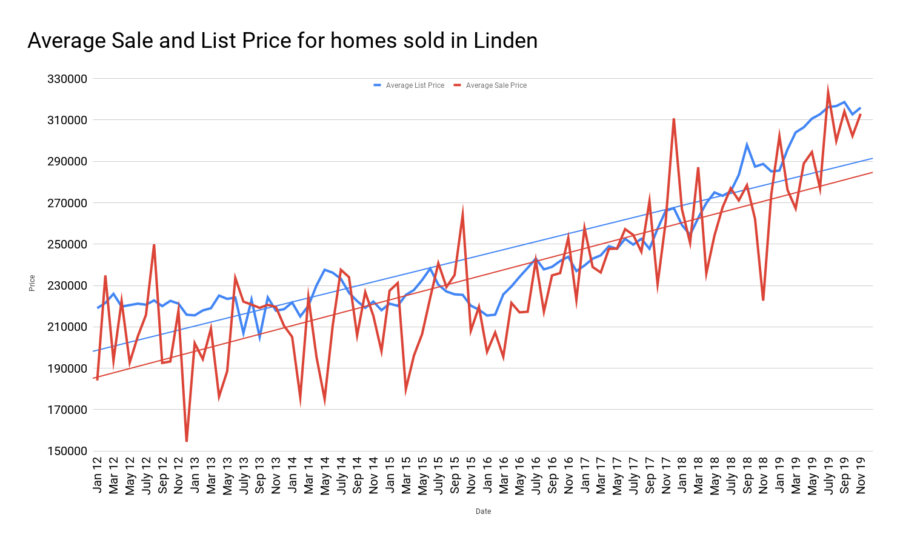 Linden has had a slow but steady improvement in prices for several years. The important thing to note about the graph is not the variability but rather the overall long term trend which is represented by the straight line which shows a healthy increase in home prices in Linden over the past seven years.
Days on Market:
In December, the average sold home in Linden was on the market for 37 days – compared to the 12 month average of 55 days and compared ot the 80 days it took to sell a house at this time last year.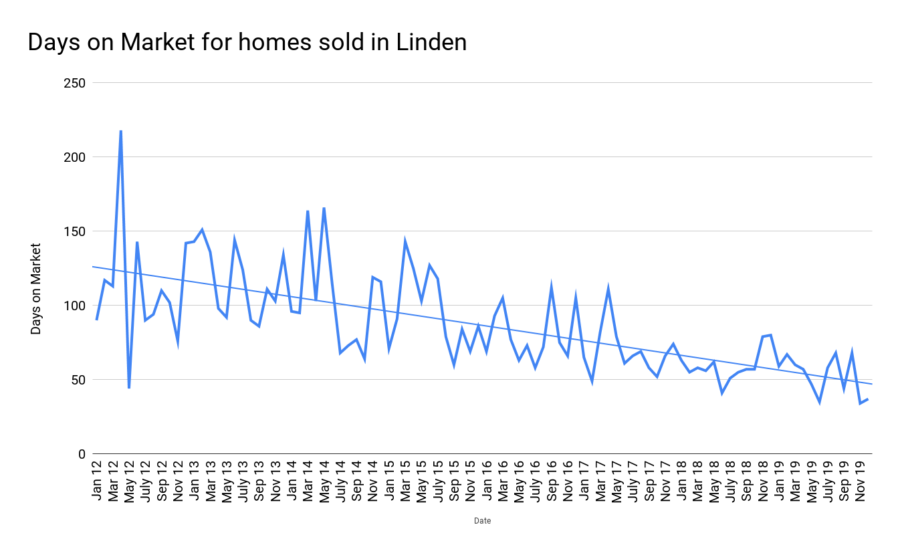 Sales appear to be just as quick as they were this summer. Sellers who want to stand out in the inventory will have to price their homes well so that they can sell fast.
What this means for buyers:
Be educated. Learn what kind of home you want. Decide with your family members what you need in a home and what you want in a home.
Be informed. Spend some time getting to know the inventory. Learn what homes look like in your price range. Learn what home features you can afford.
Be ready. Have your pre-approval ready so that you can act quickly when you find your perfect home.
What this means for sellers:
If you're on the fence about selling your home, this may be the perfect opportunity to get the most money in the shortest amount of time.
Even in a shrinking inventory situation, you're still competing with other homes on the market. View the other homes that are offered for sale and make sure your home is the best one in its price range.
Make your home available for potential buyers.
To see earlier market reports of Linden , please click here. If you're thinking of buying or selling a Linden home, please call us at 908-917-4189.