We're in a strong seller's market – What does that mean?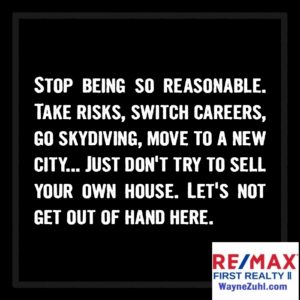 Currently, we are in an extraordinarily strong seller's market.  There are far more buyers looking to buy houses than there are houses for sale.  When this happens, low supply and high demand, prices tend to shoot up and buyers are experiencing bidding wars on nearly every home that is for sale.  As a seller, this seems like a great time to go FSBO (For Sale By Owner).  There are lots of buyers out there, many sellers think that they can avoid paying a commission. They can, but is it worth it?
Here is the truth about why selling FSBO is a BAD idea.
It is true that you'll avoid paying commission, to a listing agent. But if a buyer's agent brings a buyer, they will want to be compensated.
When buyers see a FSBO, they immediately think discount. IF they look at the house and like it, in most cases they will mentally deduct about ten percent of the price, since they know you're not paying a commission.

According to Realtor.com the median price of REALTOR assisted listings sell for 24% MORE than FSBO's.  Twenty-four percent more!  Let that sink in for a moment.

In 2018, Forbes showed data showing that REALTOR assisted listings sold for 32% more than FSBO's.
FSBO's take longer to sell, so if you need to make your move by a certain time, you may have difficulty.
The paperwork can be overwhelming. Having an agent handling the listing will ensure that all the proper disclosures (Lead Paint, COVID, Property Disclosures, etc.) and paperwork are filled out correctly and signed by all parties, eliminating yourself from certain liabilities.
There are a LOT of hidden costs that most sellers aren't aware of, and they add up quickly. Things like flyers, signs, photography, a home warranty, and most importantly exposure on the internet all cost money.  In most cases, these things are paid for by the listing agent, but FSBO's must foot the bill for all of it.
Marketing the home, exposing it to the most possible people is how agents get homes sold. FSBO's rely on a lawn sign as their main aspect of marketing.  According to a study by the National Association of REALTOR's 46% of FSBO's don't actively market their home!
Homes sold by being listed by an agent are the bulk of all homes that are sold. In fact, only around 9% of all homes sold are done so without an agent (selling to a family member or friend account for the bulk of FSBO sales).
Agents study the market and will advise their clients (both buyers and sellers) of what homes in a specific market are selling for. Most FSBO's rely on things like Zestimate or will think, "my neighbor listed their house for $500,000, my house is nicer, so let's list it for $600,000.  Agents will look at the data of what sold and can equalize similar sales to figure out with tremendous accuracy how much the home is actually worth.
In Conclusion
So, if you're going to sell your home, be smart and save money!  Hire an agent and you'll net more money and get your home sold quicker all while saving yourself the hassle of dealing with the unknowns of trying to price, market and sell a home.
If you'd like a FREE market analysis of your home, contact Team Zuhl and get a no-obligation analysis of your home's true market value.