Let's take a look at how the real estate market in Clark performed in June of 2019.
Inventory:
In July, 22 single family homes were sold and 115 homes were offered for sale, up  from 99 homes offered for sale in July of 2018 and compared to the 12 month average of 96 homes offered for sale. To search for listings, please click here.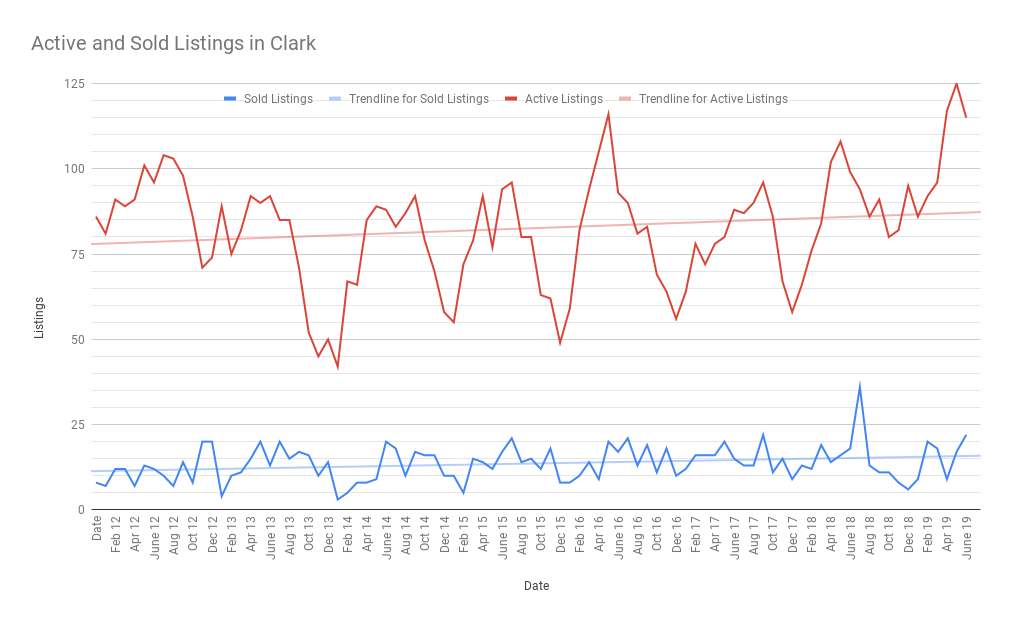 More homes are offered for sale in the spring and summer than in the winter which explains the peaks and valleys in the red line above, the active listings over the last 6 years. The blue line represents sold listings in Clark over the last 6 years and the straight light blue line represents the trend in sales, eliminating the monthly variation and showing a long term trend of upwards sales. Buyers find Clark attractive, and homeowners benefit in the form of increasing sales prices and decreasing days on market.
Realtors use an analysis called Months of Inventory to evaluate the real estate market. The Months of Inventory is equal to how long it would take to sell the existing inventory if no new houses were put on the market.  When the Months of Inventory is below four months, realtors call it a seller's market because the supply is relatively low so sellers have a stronger position in negotiations between a buyer and a seller. When the Months of Inventory is above seven months, realtors call it a buyer's market because the supply is relatively high and buyers have a stronger position in negotiations. Months of Inventory between four and seven is considered a normal market with a good balance of buyers and sellers.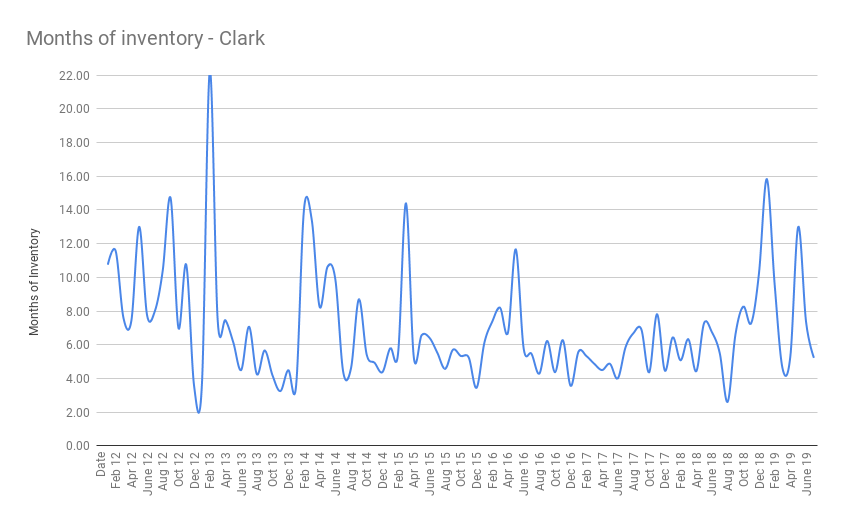 The data shows that Clark enjoyed about 2 years of a normal market but the last few months have been a little unstable with buyers getting a bit of an edge. There's every reason to think this will correct itself by fall.
Prices:
The average list price in Clark in July was $551,345 (compared to $549,932 in July of 2018) and the average sale price was $435,132 (compared to $501,944 in July of 2018). Prices are increasing but that is not unusual for Clark in the summer.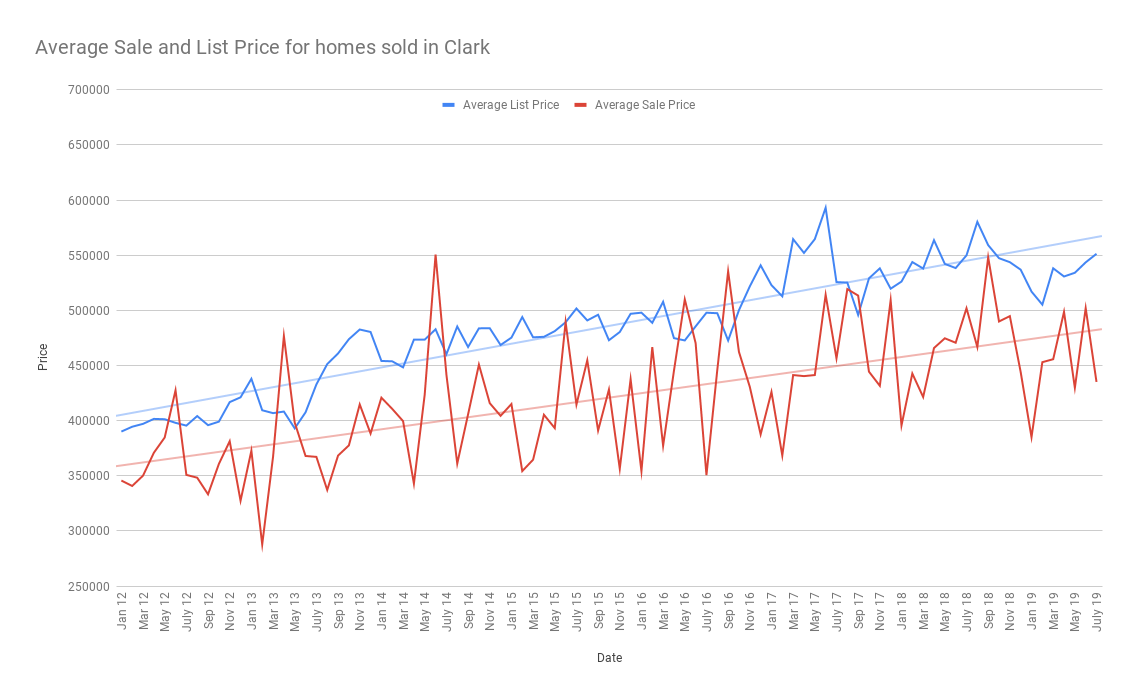 When you look at the graph of home prices in Clark, it's obvious that there are tremendous variations from month to month. As a rule, prices are higher in the summer and lower in the winter due to supply and demand, but of course there are exceptions to this rule. One exception is extreme homes – those that sell for far below or far above the typical home sale in Clark. Short sales, foreclosures and homes in disrepair often sell for less than market average. The important thing to note in the graph are the straight lines which represents the long term trend, eliminating the seasonal variability and the variability brought on from extreme cases. The trend line continues to show a healthy improvement in prices in Clark over the past 7 years and the forecast is for prices to continue to increase. Homeowners are likely to see an increased return on investment as time goes on.
Days on Market:
One of the questions we're asked most often is how long it takes to sell a home in Clark. The average sold home in Clark in June was sold after only 28 days on the market, significantly faster than the 12 month average of 42 days. Buyers who are out and looking for houses are ready to make a move quickly!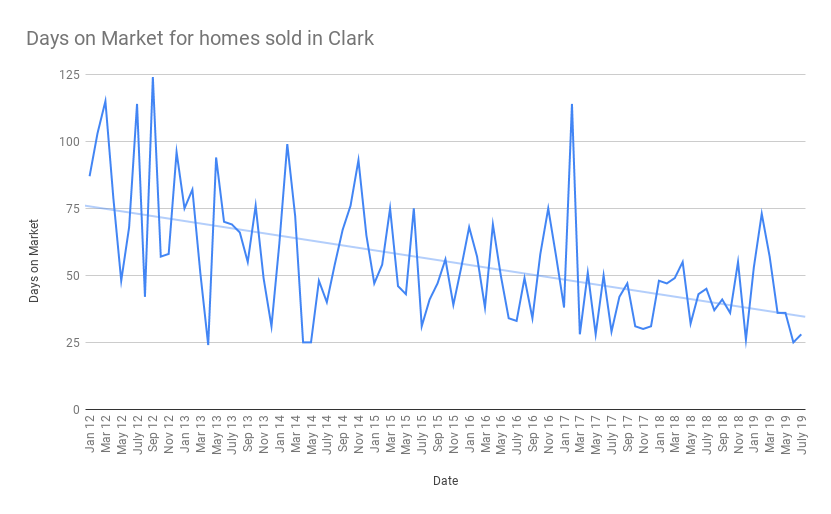 Of course, there are exceptions to this rule and the graph's dramatic variations are indicators of this. Seasonal variability often results in longer DOM in winter and shorter in summer, but the overall trend line above eliminates that seasonal variability.
Homes sell faster when they are:
In pristine updated condition,
Are marketed aggressively, and
Are priced correctly.
What this means for buyers:
Be educated. Learn what kind of home you want. Decide with your family members what you need in a home and what you want in a home.
Be informed. Spend some time getting to know the inventory. Learn what homes look like in your price range. Learn what home features you can afford.
Be ready. Have your pre-approval ready so that you can act quickly when you find your perfect home.
What this means for sellers:
If you're on the fence about selling your home, this may be the perfect opportunity to get the most money in the shortest amount of time.
Even in a shrinking inventory situation, you're still competing with other homes on the market. View the other homes that are offered for sale and make sure your home is the best one in its price range.
Make your home available for potential buyers.
To read more about the real estate market in Clark, please read our earlier market reports here.  For more information on how Team Zuhl can help you, please click here or call us at 908-917-4189.