The Blue Ridge Estate Vineyard and Winery is located in Saylorsburg, Pennsylvania, about 90 minutes from Union County.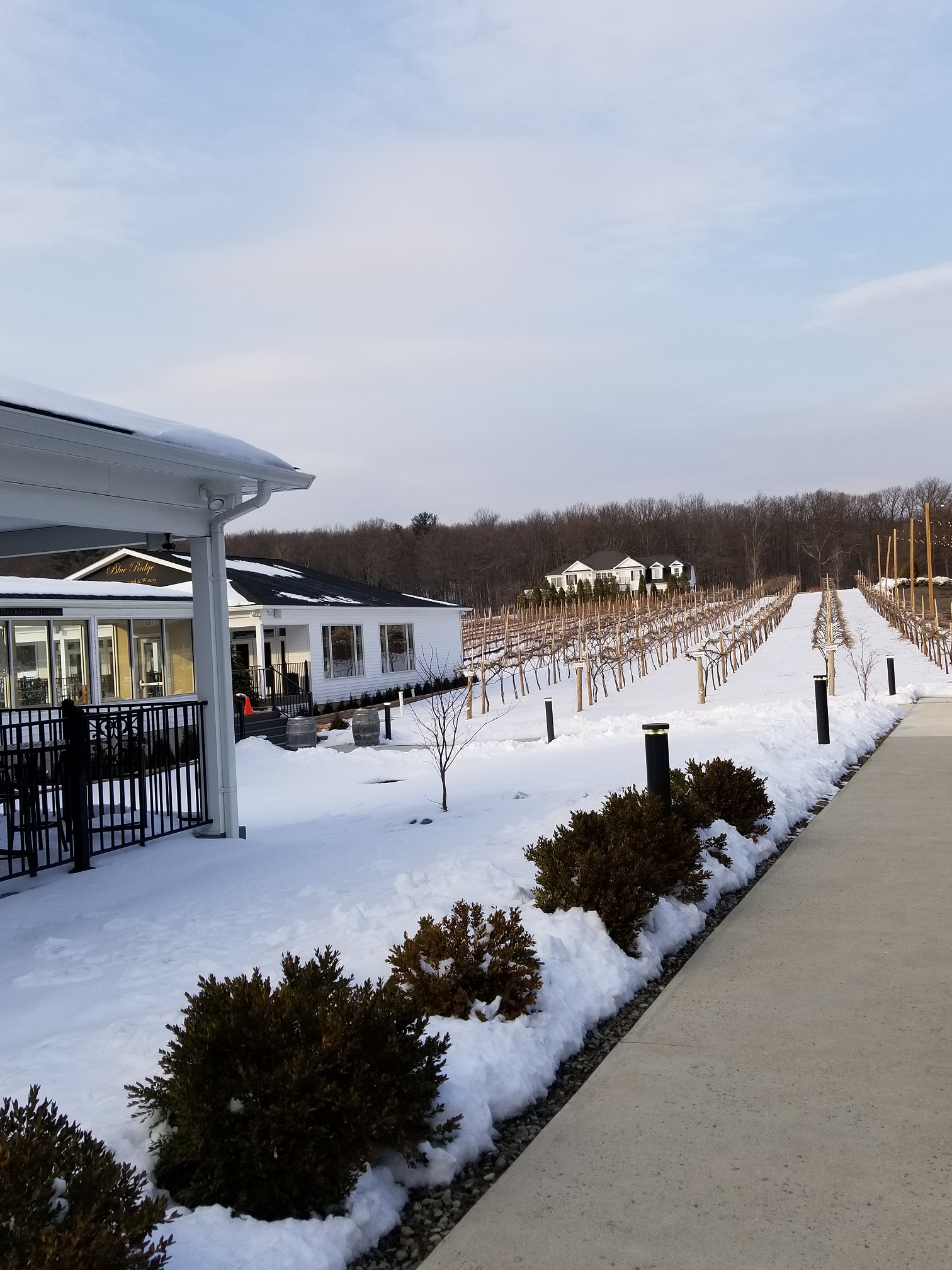 Aside from an absolutely beautiful view of the vineyard, the tasting room features a long bar and lots of sitting room, arranged in tables suitable for meals, which they serve on Friday evenings.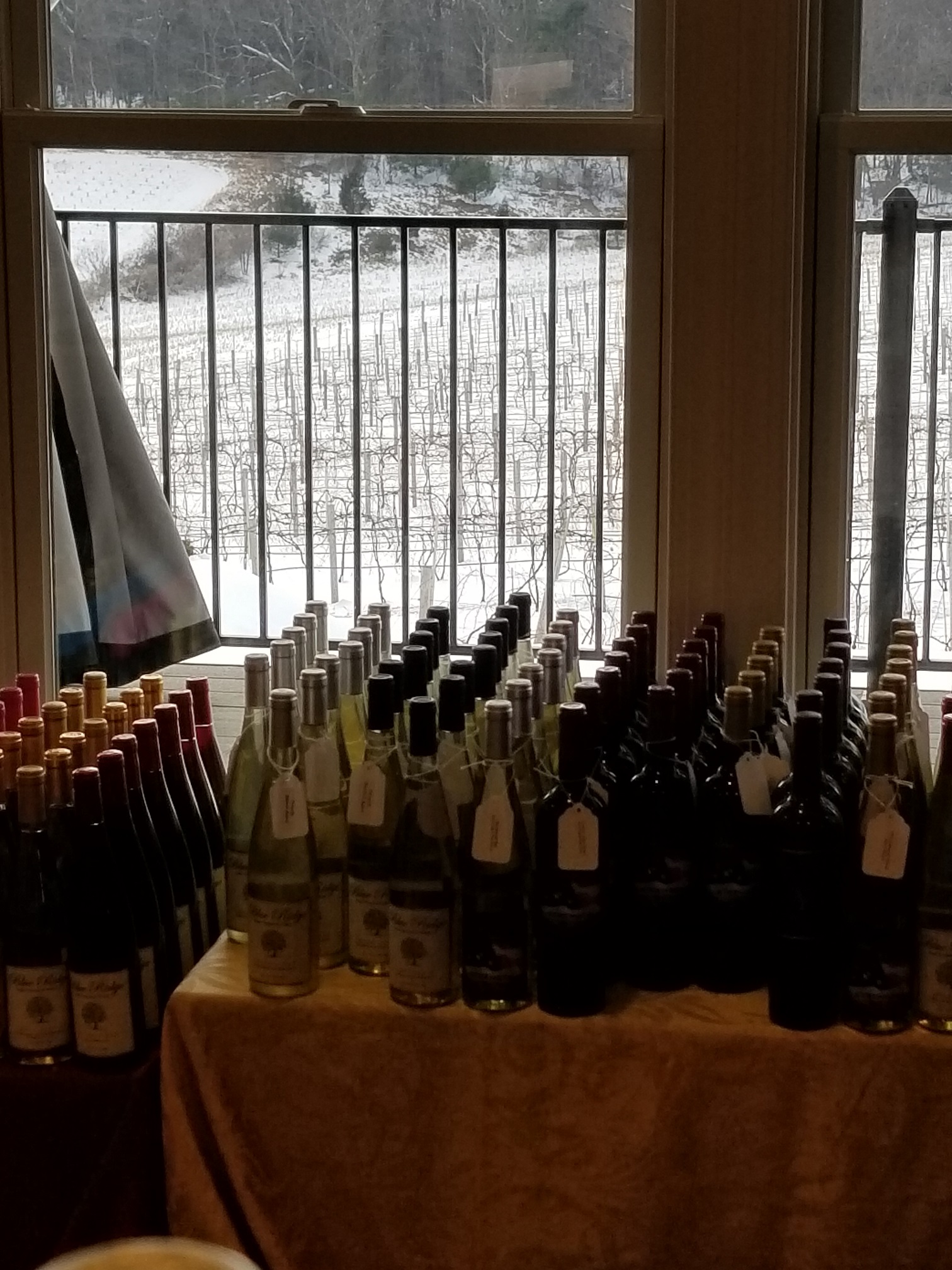 There is live music every Saturday and Sunday from 2:00 to 4:00 year round and a free wine cellar tour at 2:00 and 4:00 on weekends, year round.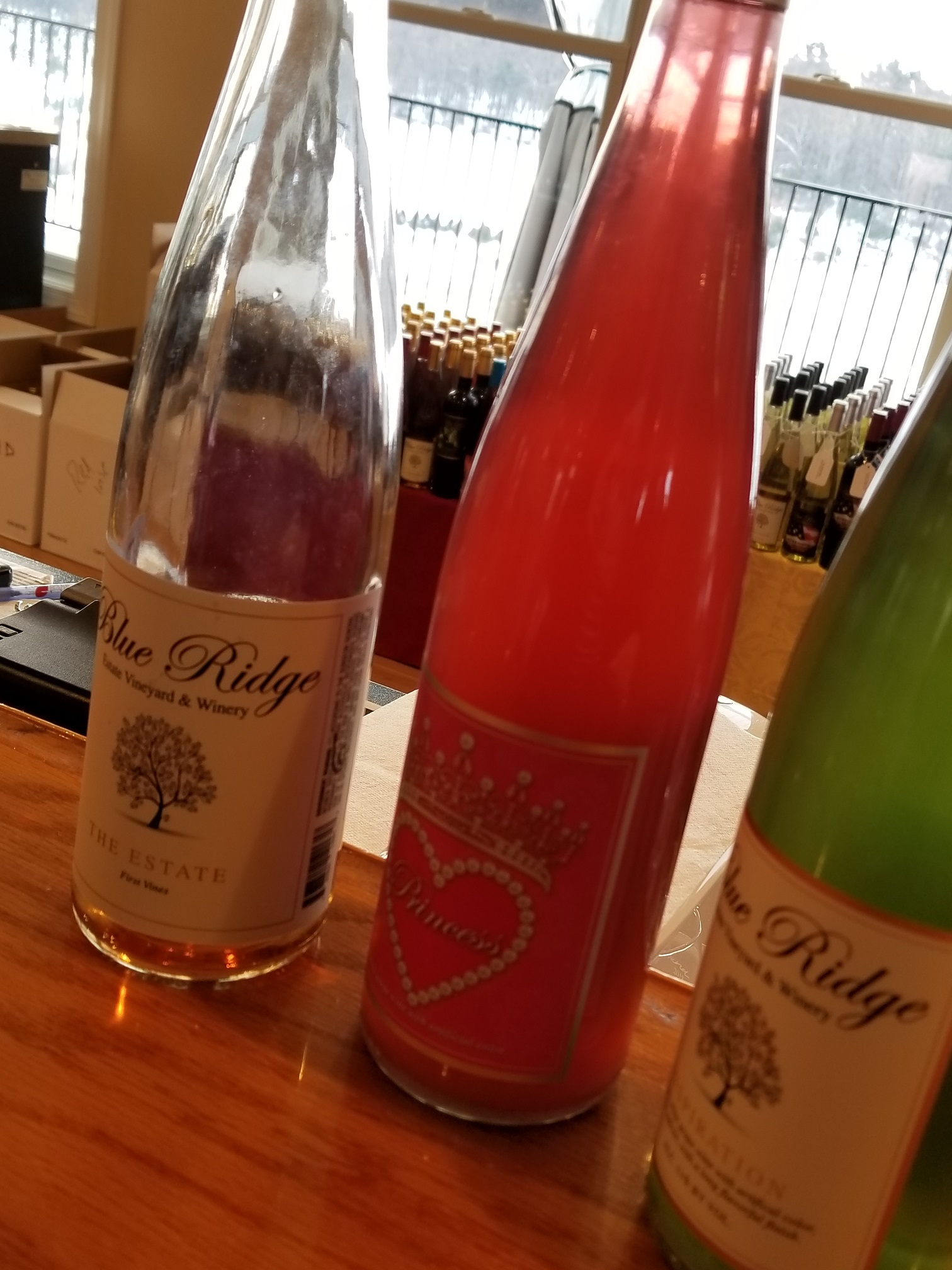 Wine tastings are offered daily from 11am to 6pm, later on Fridays.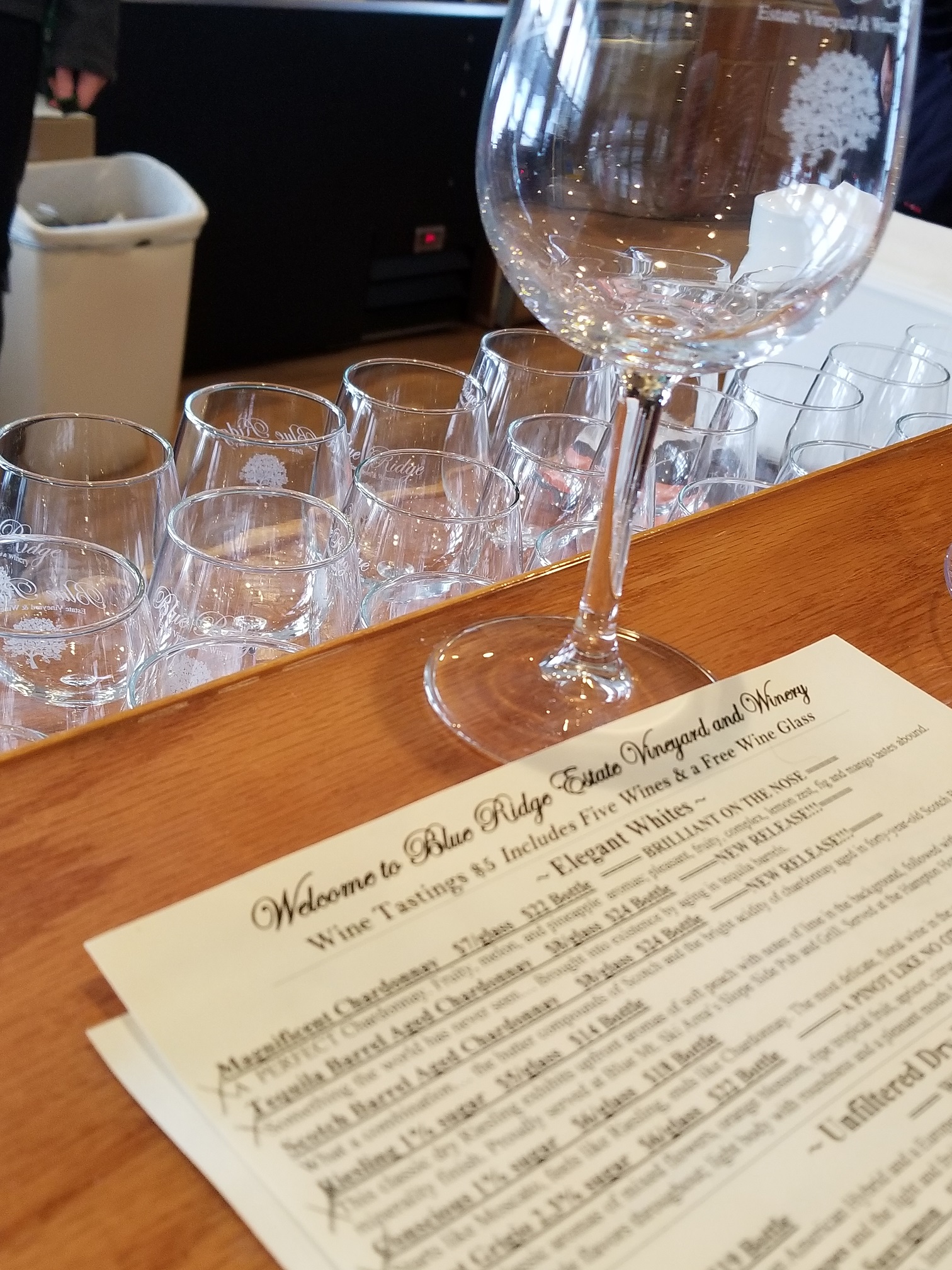 Tastings are $5 for 5 wines from their extensive list and include a souvenir glass.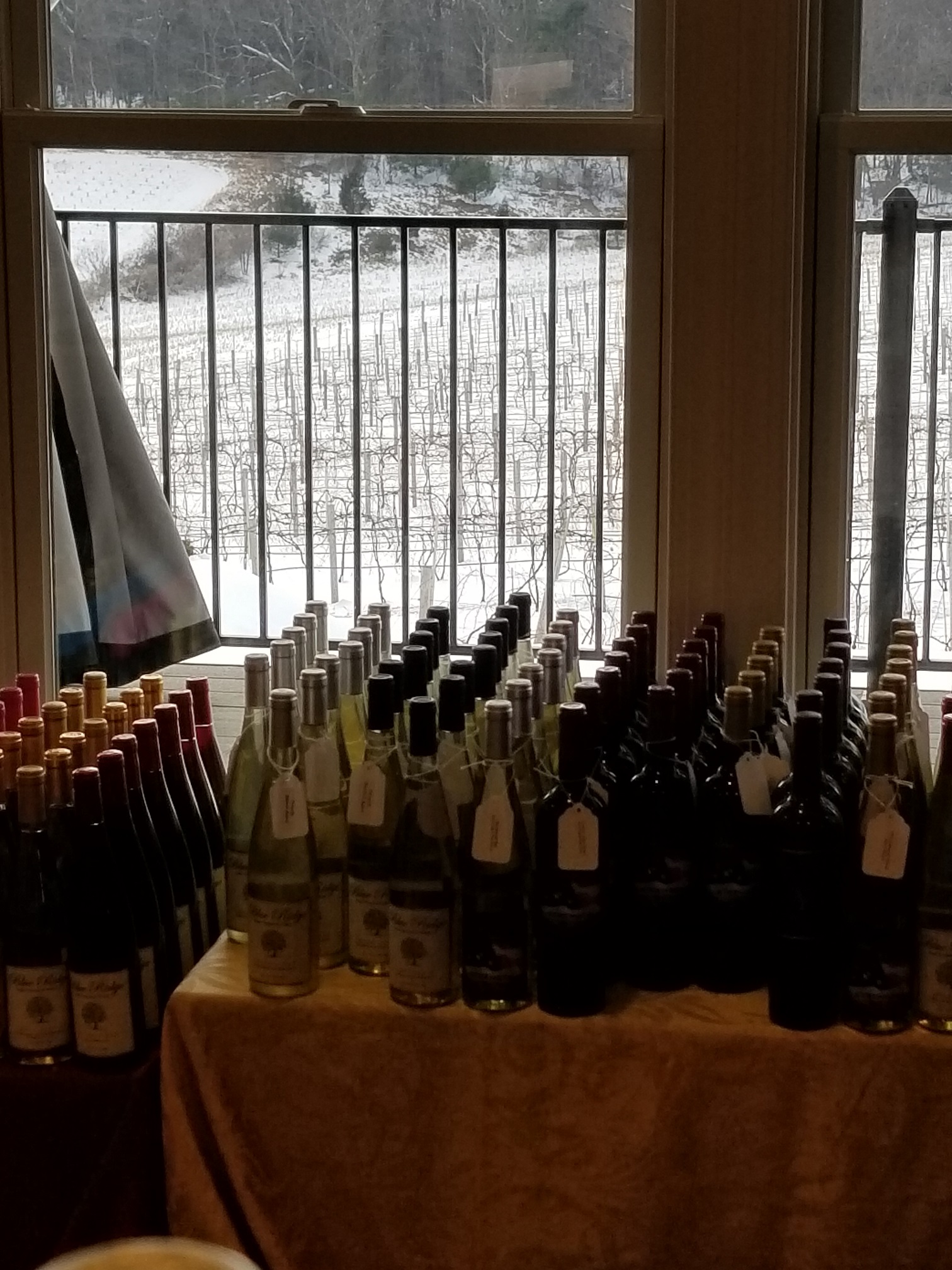 The wines:
Magnificent Chardonnay – $22/bottle.  A little floral for my taste, I only gave it 2 stars. Wayne liked it more – 3 stars.
Chardonnay aged in Tequila barrel – $24/bottle. Significant improvement, but still a little fruity.
Chardonnay aged in Scotch barrel – $24/bottle. 3 stars from both of us, and we came home with a few bottles as well. Nice undertones of smoke.
Riesling – $14/bottle. Really good inexpensive Riesling. Not typically Wayne's wine of choice, he gave it 3.5 stars, I gave it only 3.
Conscious – $18/bottle. Delicious and interesting. Sweet up from, smooth ending. 4 stars from Wayne, 3 from me.
Pinot Grigio – $22/bottle – Pear and honey gave it 4 stars from Wayne. Too floral for me – only 2 stars.
Renegade – $19/bottle – merlot and concord mix.
Bourbon barrel aged cabernet sauvignon -$22/bottle. Wayne gave it 2.5 stars. I didn't even both trying it.
Merlot 2014 bourbon barrel aged – $26/bottle. Beautiful ruby color, very dry. Wayne gives it 5 stars and I thought it was closer to a 2 star wine.
Indescribable Red – $24/bottle – The color of this wine was really beautiful. Almost opaque red. But not appealing on the palate – 2 stars for Wayne and only 1 from me.
Inspiration – $12/bottle. dry white. A lovely birthday gift from the winery to Wayne!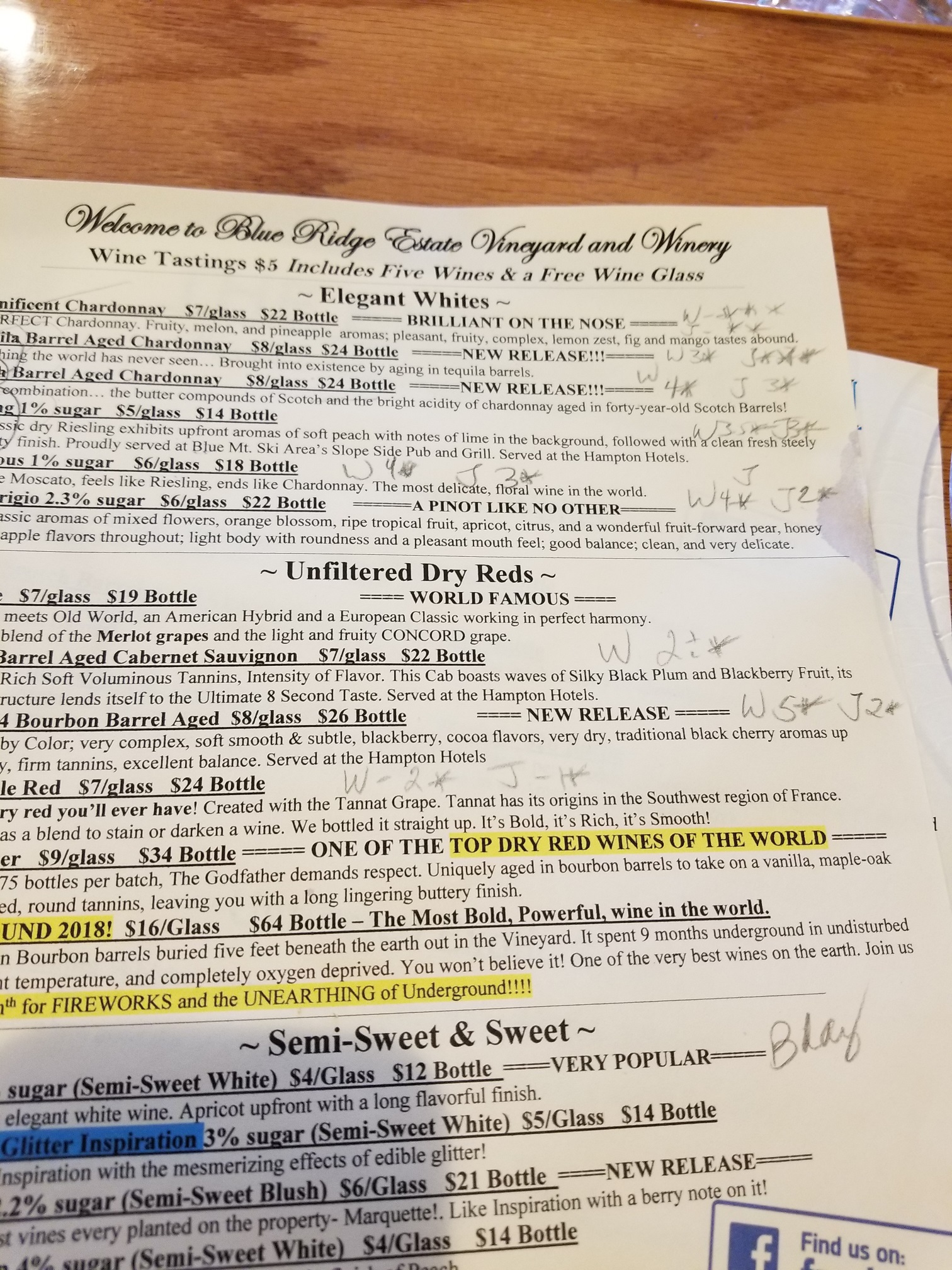 The winery also offers something they call The Underground Experience which we didn't get to try but is offered for $30 most Saturdays. It includes tastings and a 45 minute talk that they describe as inspirational and it all takes place in an underground room that sounds fantastic. Definitely something we're going to go back to try!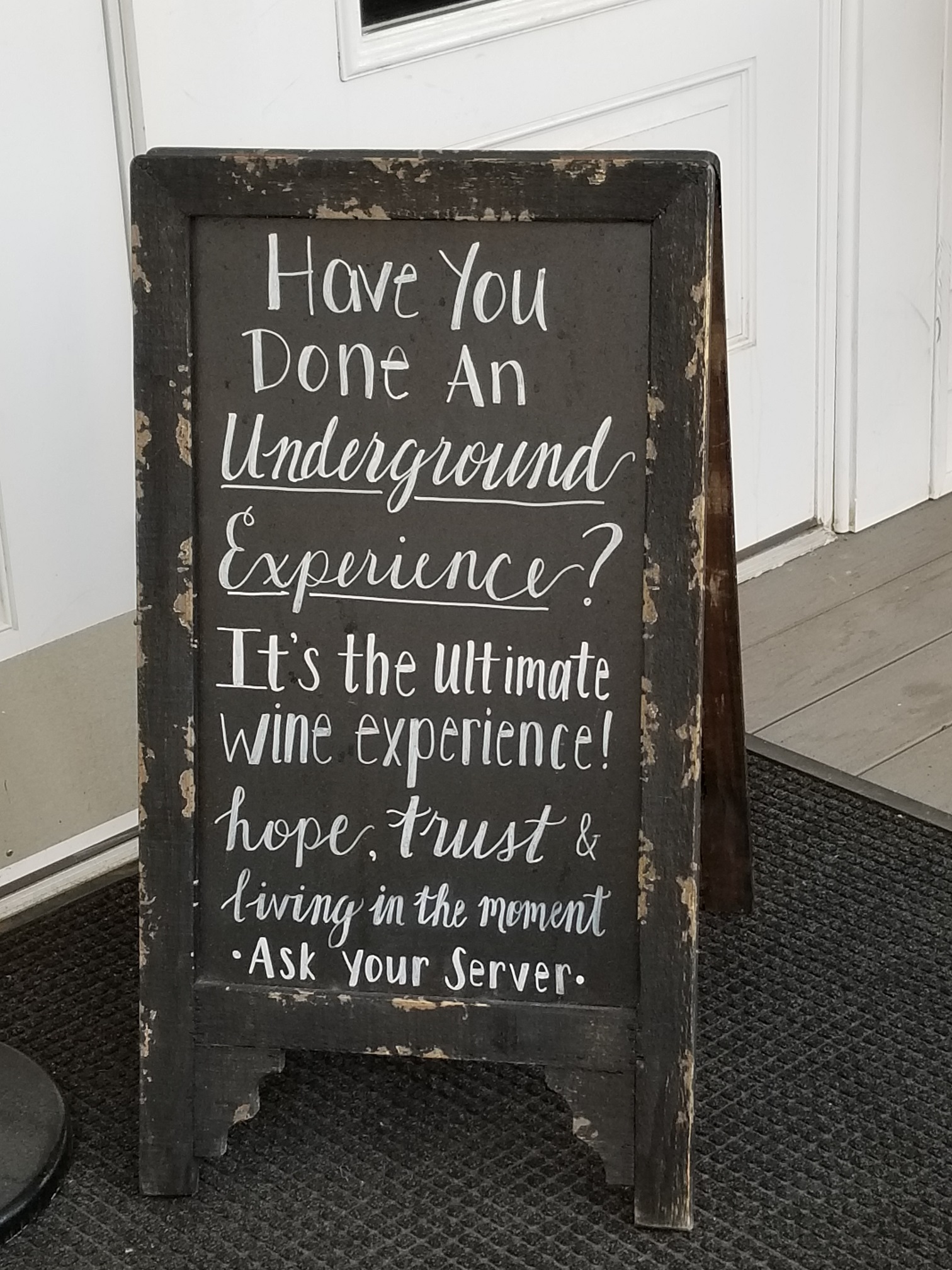 Overall winery ratings:
Wayne – 4 stars. Great experience. Friendly service, beautiful place.
Jean – 4 stars. Definitely want to go back.