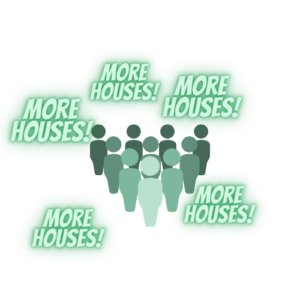 In my daily life, I'll hear this question several times a day: How's the Real Estate Market?
Lately, the answer to that has been pretty much this: If you're a buyer, it's frustrating, because you're constantly being outbid.
However, if you're a seller, you'd probably react with: Holy *%&#!!! This market is insane!  I sold my house in just a few days and there were multiple offers and it sold OVER the asking price.  In fact, it sold WAY over the asking price!
Why is this the case?  We are in what is called a Seller's Market.  In a Seller's Market there are fewer homes on the market.  At the same time, there is an abundance of buyers.  You now have the classic case of low supply and high demand.  This is driving the multiple offers that we are seeing as "normal" now.  It's also why many homes are selling ABOVE list price.
If you have lived in your home for 15 or more years, the chances are that you've built up quite a lot of equity in your home.  By selling your home now, you'll likely net far more than you could have even a year ago.  The statewide average in the last 12 months, has seen homes been selling for about 12% more than they were a year ago.  Listing your home now, will likely enable to sell your home quickly and very likely above list price.
Why?  There's no simple answer, but many current buyers are millennials, they make up about 70% of buyers in the state.  Add to that many people who rent, especially in cities, are migrating to the suburbs for more space, including work (many are telecommuting) and leisure spaces. Rents have gone up and homes are more affordable, due to historically low-interest rates.
All of these factors combined with historically low inventory (supply) is causing many homes as they're listed to be shown many times with offers coming in almost immediately.  In some cases, buyers are even bidding on homes without even seeing them to (hopefully) be the winning bid.
However, you'll still need to price your home competitively.  It's likely that it will sell for more than you're asking.  But, whatever you do, don't overprice your home.  Buyers are savvy, and they're willing to pay more than list, but they're not willing to pay more than the market will bear.
So how do you price your home in a way that it will attract buyers and sell for more than you're asking?  Ideally, you'll hire an agent like me and using my Market Analysis you'll see what the current market value for your home is, which will help you price it appropriately.  In many cases, listing at 1-5% below current market value will result in your home selling over current market value and in some instances, 10 or 20% more than market value.
If you'd like a FREE, no-obligation Market Analysis for your home, contact me today.  By answering a few questions, I'll be able to work up a Market Analysis that you can review to determine whether now is the right time for you to sell or not.
Remember with Team Zuhl everything we touch turns to SOLD!!!
All opinions, information and data provided is deemed reliable but is subject to errors and omissions. Not intended to solicit other Brokers' clients. We cooperate with them fully.