If you own a home in Westfield, or if you want to own a home in Westfield, this is the place to be for information about real estate values this summer.
Inventory: There are currently 190 single family homes are currently  offered for sale in Westfield representing a drop in inventory compared to the summer high of 109 homes. The current listings range in price from $149,000 to $4,450,000.  Thirty-four homes were sold in October at an average sale price of $871,129.
This graph shows inventory and sales for the past 4 years.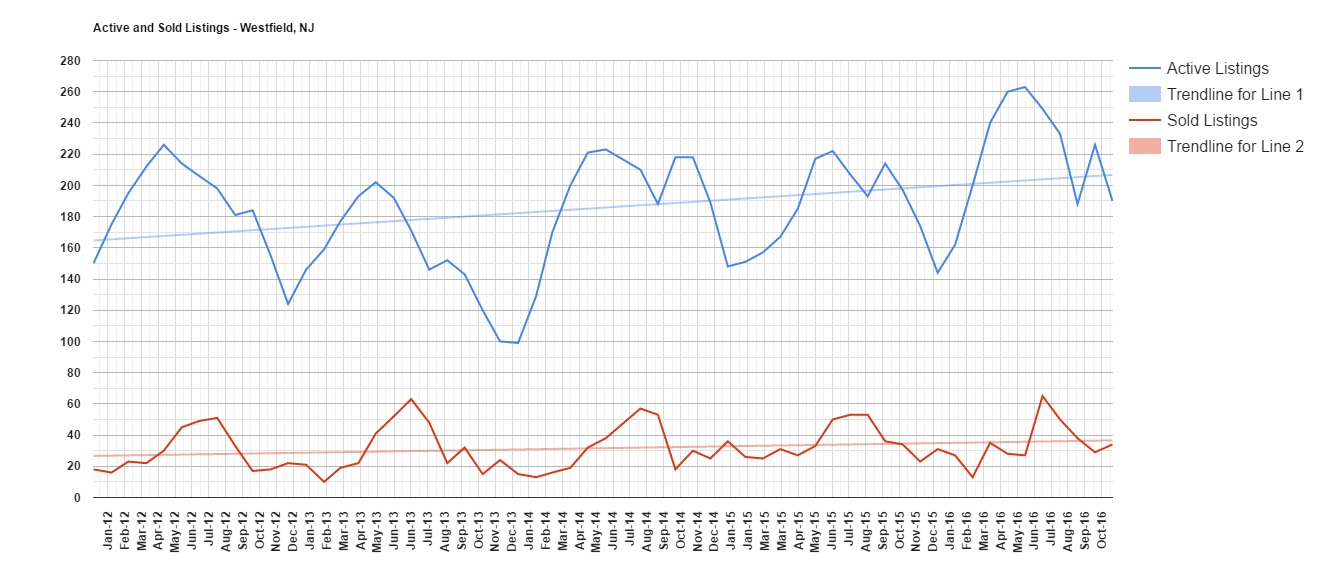 The blue line represents the active inventory in Westfield month by month. There are seasonal trends with inventory typically increasing in the summer and decreasing each winter. This summer's inventory was the highest we've seen in several years although it has dropped. The 12 month average inventory in Westfield is 210 homes actively listed for sale. Typically, the law of supply and demand would indicate that increasing inventory would result in decreasing sales prices but that's not what we've seen in Westfield at all.
When we look at the trend line for inventory – that's the darker blue straight line on the graph – we see an increase of about 18% over 4 years.
The red line at the bottom of the graph shows the number of sold listings over the past 4 years showing a 23% increase over time.
Prices:  In October of 2016, the average sold home was sold for $871,129, almost 20% higher than last month and 7% higher than the 12 month average of $812,448.
The graph for Westfield sale prices shows a great deal of variability from month to month with some slight seasonality.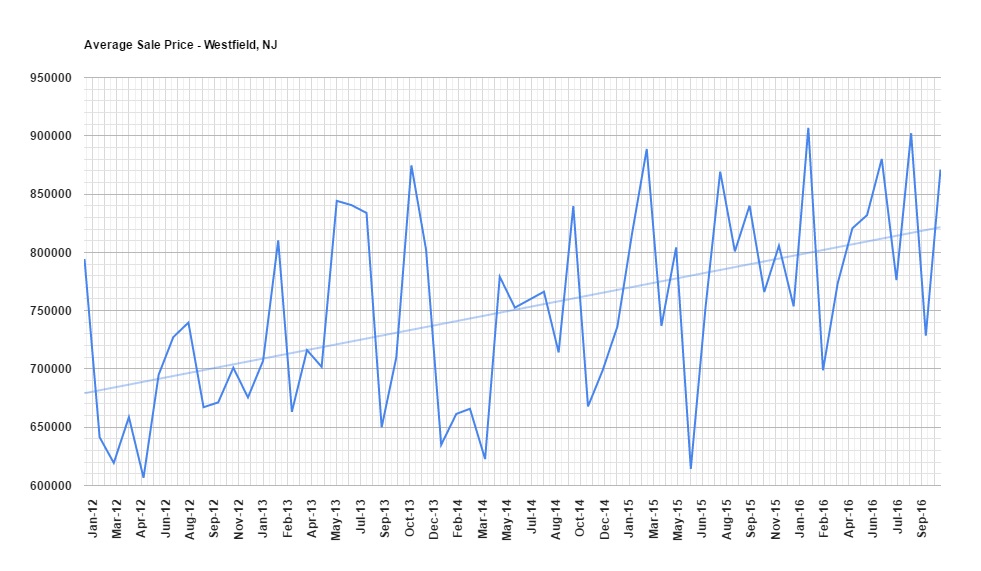 The trend line is that straight black line in the graph. It is  showing a very healthy increase in prices over the past several years. Prices 4 years ago were around $675,000 and now they're closer to $820,000 representing a value increase of 21% over four years.
Days on Market: Of course, the length of time it takes to sell a home depends on far more than just location. It is also dependent on price, condition, and marketing.
In October of 2016, the average sold home in Westfield was sold after 72 days – significantly longer than the 58 day average in September and 30% slower than the 12 month average of 55 days.  In fact, October 2016 sales were the slowest seen in Westfield since September of 2015 but there is no reason to believe this won't correct itself by next month.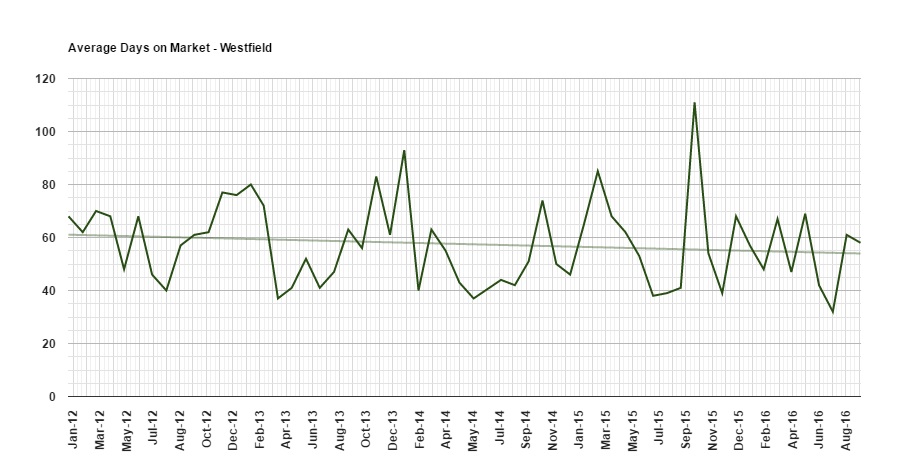 You can see on the graph that the length of time it takes to sell a home in Westfield is improving slightly. Looking at the trend line – the black straight line on the graph-  homes in Westfield homes sold back in January of 2012 after about 60 days on the market  and now they're selling after about 55 days – a small improvement.
If your next step is selling your Westfield home, call us today at 908-917-4198 for your free comparative market analysis and see how your home compares to others in Westfield.