If you own a home in Westfield, or if you want to own a home in Westfield, this is the place to be for information about real estate values this spring.

Inventory: There are currently 213 homes offered for sale in Westfield right now. Inventory in Westfield continues to increase which is unusual in Union County. Throughout the rest of the county, we're experiencing decreases in inventory creating a strong seller's market. In Westfield, sales remain steady but inventory is increasing.
Prices: The current listings range in price from $363,000 to $4,450,000.  Thirty three homes were sold in March at an average sale price of $773,173. The average price in this case does not tell the whole story. When we break down the listed homes by price category, we see that 38% of the available inventory is offered for between $1M and $2M.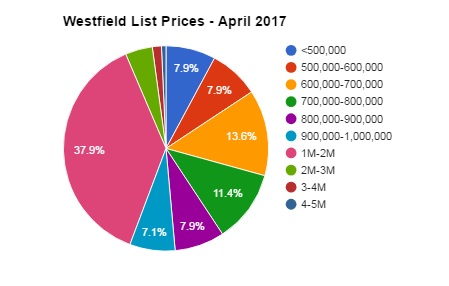 Days on Market: Of course, the length of time it takes to sell a home depends on far more than just location. It is also dependent on price, condition, and marketing. In Westfield, the average home that sold in March was sold after 57 days on the market, slightly longer than the previous month and slightly faster than the 60 days in March of 2016.
If your next step is selling your Westfield home, call us today at 908-917-4198 for your free comparative market analysis and see how your home compares to others in Westfield.