On Thursday, June 1st, 2017 the Fanwood Memorial Library and the Scotch Plains Public Library are kicking off The Library Telescope Project in New Jersey!  Both libraries received a donation of a fully outfitted reflecting telescope.  The funds for the first two telescopes were donated by the Fanwood-Scotch Plains Rotary Club and the fabrications to the telescopes were made by members of Amateur Astronomers, Inc. (AAI) in Cranford.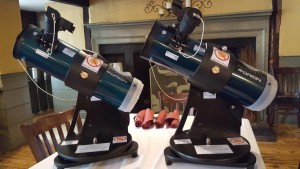 The telescopes are modified Orion Starblast 4.5 reflectors.  The telescope design was created by Issac Newton (these are Newtonian Telescopes) and are mounted on a single arm altazimuth tabletop mount.  Several modifications were made to make the telescopes more "user-friendly" and to make it impossible to lose the covers.  A zoom eyepiece was added, giving the telescope a low power of just under 20X to high power of 56X.  There is also a "moon port" on the front dust cover to give better contrast when looking at the moon.  Users will be able to see mountains and craters on the moon, Saturn's rings, Jupiter's moons and Great Red Spot and much more with these telescopes.
The telescopes will be available to township residents only.  Patrons will be able to borrow the instrument for one week.
Would you like this in your town? Contact Wayne Zuhl for more information.