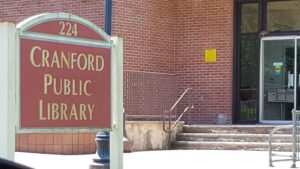 Got a Cranford Teen? Here are the wonderful opportunities available for your teen this summer!
Summer Reading Program – each book you read will earn you a raffle ticket which can be used to win prizes at the End-of-Summer-Reading Party on Wednesday, August 9th at 2pm. To sign up for Summer Reading, click

here

. To update your Activity Log, click

here

.

Tuesday Films – The Cranford Library will host free films for teens on Tuesdays at 2PM.

July 11 – Miss Peregrine's Home for Peculiar Children

July 18 – Suicide Squad

July 25 – Princess Mononoke

August 1 – The Maze Runner

August 8 – Batman vs. Superman: Dawn of Justice

Game On – Video games, board games, and cards games are available for teens every Wednesday at 2pm.

Chess Club – Compete or teach younger children how to play on Tuesday, July 18 and August 1st at 3:30pm.

Pizza Tasting – Help decide who makes the best pie in town on Thursday, July 6th at 2pm. Click

here

to register.

Minute to Win It – Bring a team to compete in challenges on Thursday, July 13th. Click

here

to register.

Craft your own Bath Bombs and Sugar Scrubs on Thursday, July 20th at 2 pm. Click

here

to register.

Murder Mystery Lock In – Solve the mystery and break out of the library on Thursday, July 27th from 7-9 pm. Click

here

to register.