Your cell phone can make your life easier. Here are a few Smart home products you can control from your phone.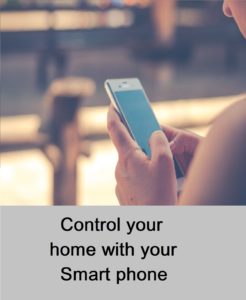 iDobbi Wireless Mini Smart Plug Outlet – Simply plug this into any outlet and it converts that outlet into a Smart outlet – able to be controlled by your Smart phone. Use it for lights so that you don't need to walk into a dark house. This can also be controlled with the Amazon Alexa and retails for $16.89.
MySmartBlinds Automation Kit – This product will let you open or close your ordinary blinds with your Smart phone. Does the Sun wake you up in the morning?You can schedule the blinds to close before sunrise or open in the morning to let the Sun in. This product sells for $99.00 or $123.00 with a USB charging cable.
Nest Protect  Smoke and Carbon Monoxide Alarm – This smoke and carbon monoxide detector features Wi-Fi connectivity so that you can receive an alert on your phone if the alarm is activated or if the batteries need replacement.  You also can turn it off from your phone if you know the smoke is from cooking, for example. It speaks to tell you what the problem is so you know what to do. Retails for $118.98.
Honeywell Smart Wi-Fi 7 Day Programmable Thermostat – This is a clever product that allows you to control your thermostat with your smart phone, computer, or tablet.  You can program the thermostat to heat and cool your home automatically for a week in advance. It can be controlled by Amazon Alexa and retails for $174.99.
What Smart products would make your life easier?