Now that the housing market has stabilized, more and more homeowners are considering moving up to the home they have always dreamed of. Prices are still below those of a few years ago and interest rates are still below 4%.
Sellers need to realize that waiting to move while mortgage rates are increasing probably doesn't make sense. As rates increase, the price of the house you can afford will decrease.
Look at this chart: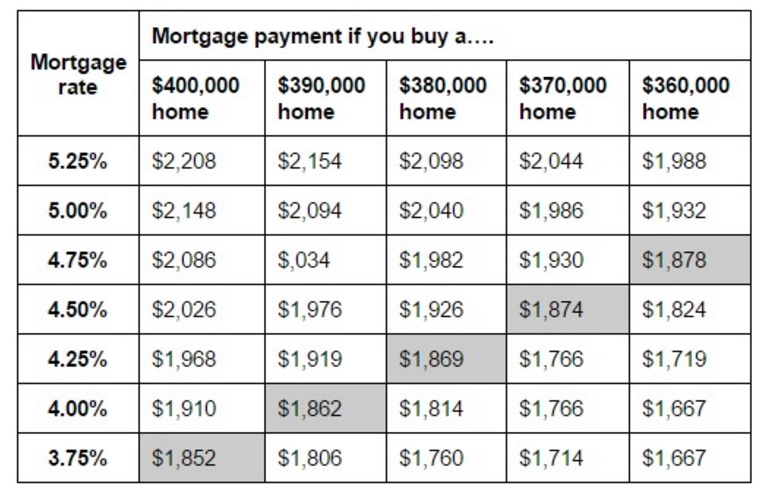 If you look at the left column, you can see the mortgage rates, and across the top are home prices. I've highlighted mortgage payments of around $1860 at each mortgage rate and you can see that at 3.75%, you can buy a $400,000 house and pay about $1860 per month. If the mortgage rates increase to 4.00, however, you can only afford a $390,000 home in order to pay $1860 per month. And it continues across the chart – at a mortgage rate of 4.25%, $1860 only gets you a $380,000 home. Turns out that you lose about 2.5% of your buying power with every quarter of a point increase.
How long should buyers wait to buy a home? Until the rates are 4.50 or 5.00%? If the projections are accurate it's better to buy sooner rather than later.
If you're ready to buy a home, now is the time to call Team Zuhl and get the most for your money!
All opinions, information and data provided is deemed reliable but is subject to errors and omissions. Not intended to solicit other Brokers' clients. We cooperate with them fully.