Scotch Plains is currently experiencing a very strong real estate market. Here's what you need to know for October, 2016.
Inventory: There are currently 160 single family homes offered for sale in Scotch Plains including this beautiful home on Elizabeth Avenue. In the graph below, you can see that summer inventory is often high and this summer is no exception. In the graph below, the blue line represents the inventory over the past 4 years and it's plain to see that summer inventories are typically high and winter inventories are typically low. Faster home sales this summer will reduce the inventory in the next few months.
There were 33 homes sold in Scotch Plains in September. The red line in the graph below represents the number of homes sold. The straight red line shows the trend in sales over the past 4 years and there is a very noticeable trend toward an increase in sales. The law of supply and demand predicts that increasing sales will cause prices to increase and Scotch Plains has indeed seen an increase in prices.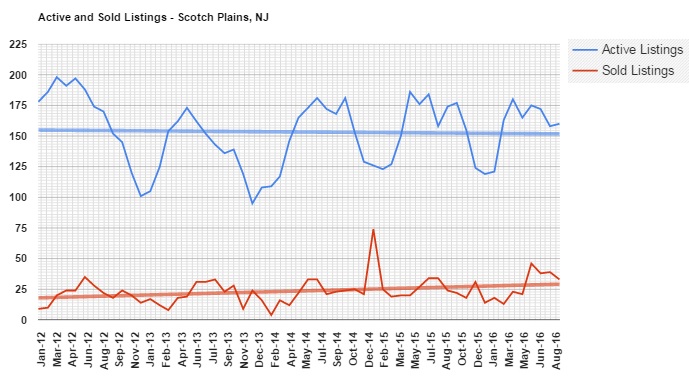 Prices: The average home that sold in Scotch Plains in September was sold for $495,177. The graph below shows the sale prices in Scotch Plains for the last several years and the straight line in the graph shows the trend line. There is a very strong trend toward increasing prices which gives us every reason to believe that investment in a Scotch Plains home will continue to bring a great return on investment.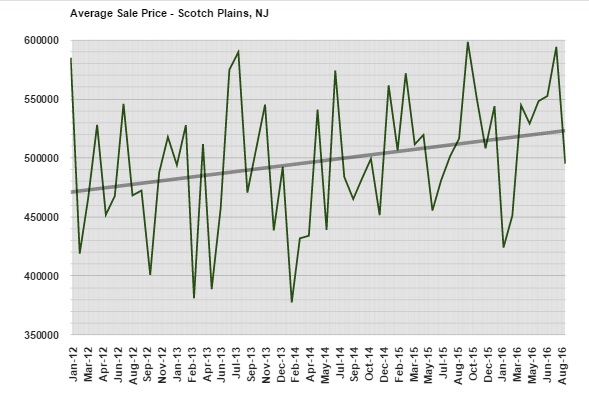 Days on Market: Homeowners who want their home to sell quickly will work with their Realtor to ensure that their home is marketed aggressively, is in pristine condition, and is priced appropriately. There is a very high demand for homes in Scotch Plains this summer and homes are selling quickly. The average home in Scotch Plains that sold in July was sold after 50 days on the market – the fastest times we've seen in years.
If you're planning on selling your Scotch Plains home, call Team Zuhl today for a free comparative market analysis of your home. If you're thinking of buying a home in Scotch Plains, call us today!
For more information on Scotch Plains Real Estate:
All opinions, information and data provided is deemed reliable but is subject to errors and omissions. Not intended to solicit other Brokers' clients. We cooperate with them fully.