Homeowners and home buyers in Scotch Plains  are smart to learn about the real estate market to help make an informed decision about when to buy and sell a home in Scotch Plains .
Here's what's been happening lately.
Inventory:
16 homes were sold in Scotch Plains in January – compared to the 12 month average of 27 homes per month. December was busy – 31 homes sold – and winter is typically slower than the rest of th eyear, so a slow down in January is not alarming. When the weather improves, the market likely will also.
Inventory is 100 currently listed homes compared to a 12 month average of 136 homes and to the 125 homes that were offered for sale at this time last year.
As inventory decreases, demand for homes usually increases. This can help to raise prices and/or decrease how long it takes to sell a home.
Realtors use an analysis called Months of Inventory to evaluate the real estate market.  Team Zuhl breaks down Months of Inventory in the Scotch Plains real estate market for you here.
In Scotch Plains, there are currently 6.25 months of inventory in a normal market. There are enough homes listed for sale to satisfy the current buyers in Scotch Plains.
Prices:
The average sale price in Scotch Plains in January was $660,884 – almost 20% higher than the 12 month average sale price of $553,946. .
The average list price in Scotch Plains in January was $648,303. Home sellers who want to sell their Scotch Plains homes this winter are going to have to price competitively.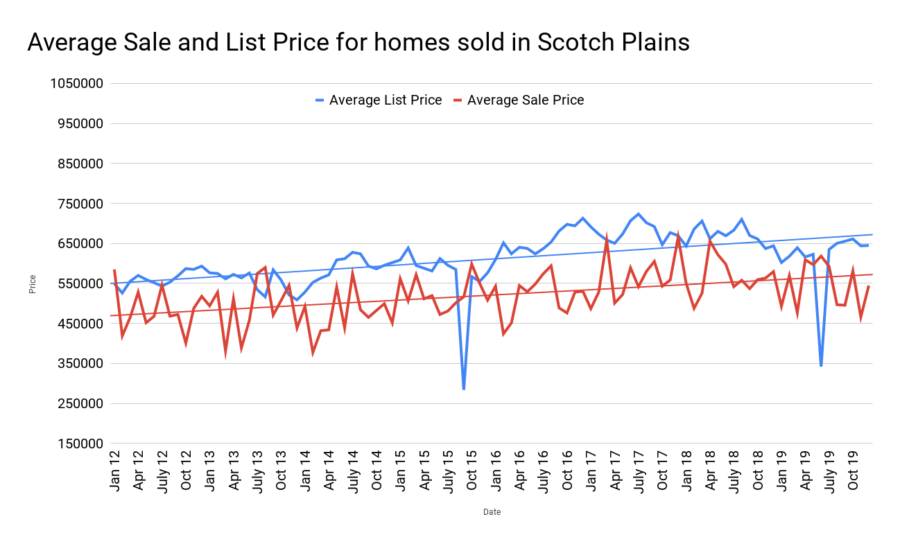 Scotch Plains home prices vary seasonally and the trend line indicates steady growth over the past 7 years with every indication that prices will continue to rise.
Days on Market:
In January, the average sold home in Scotch Plains was on the market for 54 days – compared to 62 days in January of last year and to the 12 month average of 48 days. Sales are slowing down – not unusual in the winter.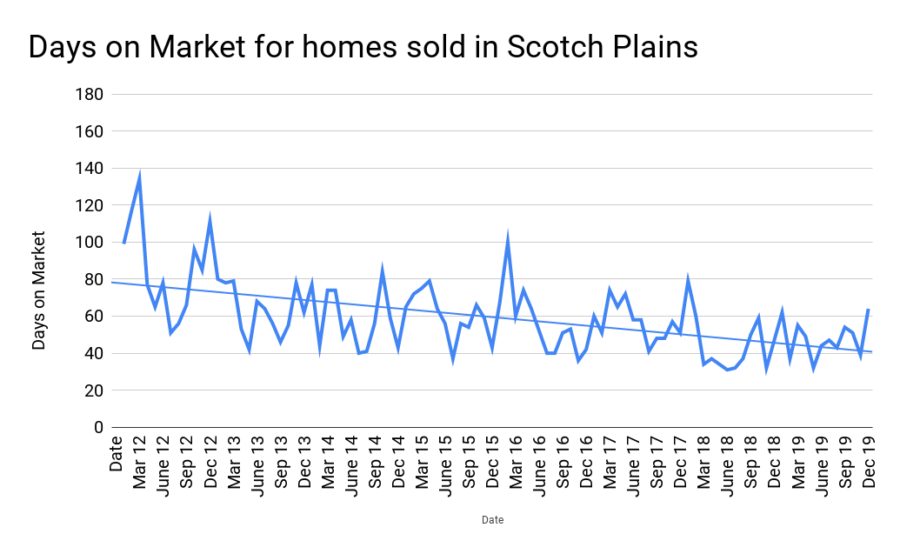 The speed of a home sale is dependent on home condition, pricing, and marketing. Homes typically sell slower in the winter than the rest of the year as is evident in this six year graph below. The trend line, however, shows that the time it takes to sell a home continues to get shorter overall.
Team Zuhl explains how the real estate market affects buyers and sellers in Scotch Plains here.
To read more about the real estate market in Scotch Plains, please read our earlier market reports here.  For more information on how Team Zuhl can help you, please call us at 908-917-4189.