If you own a home in Scotch Plains, or if you want to own a home in Scotch Plains, this is the place to find out what you need to know this spring.
Inventory: There are currently 99 single family  homes offered for sale in Scotch Plains compared to a 12 month average of 151 homes. 163 homes were listed in March of 2016, so this spring is definitely starting with a "thin"-ventory.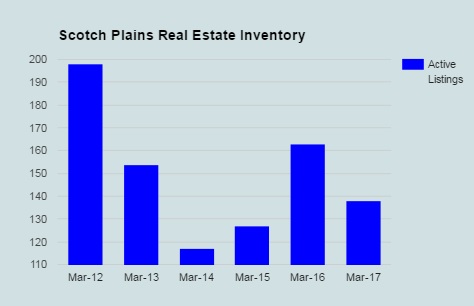 Lower inventory often results in an increase in prices due to supply and demand. If you're planning to purchase a home, your offer will need to be strong to avoid losing a bidding war.
Twenty  homes were sold in March which is typical for March in Scotch Plains. Normal sales with a lower than normal inventory may increase the impact of the low supply on prices.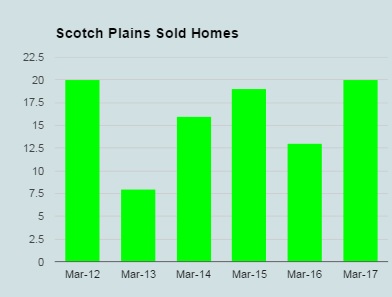 Prices: The average sale price in March  of 2017 in Scotch Plains was $671,777, about 24% higher than the 12 month average of $539,970. At least part of the increase is due to several homes selling above $1 million last month.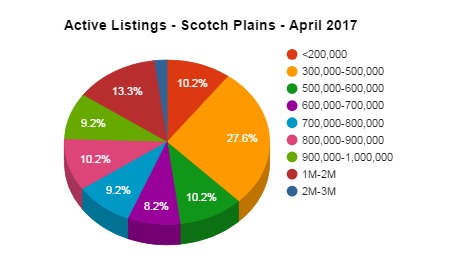 In terms of list price of the active inventory, the average list price is $667,495 but that doesn't tell the whole story. 37.8% of the listings are offered below $500,000 and 15.3% are offered above $1,000,000. To say that Scotch Plains has a home for everyone is pretty accurate – there are homes available in just about every price range.
Days on Market: How long it takes to sell a Scotch Plains home is affected by three factors – price, condition, and marketing. Homes that are priced at market value sell faster than homes that are overpriced. Homes in better condition will sell faster than homes in poor condition. And homes that are marketed well will sell faster than homes that are not marketed well.
In March of 2017, the average sold home was sold after 57 days. 
If we can help you with your Scotch Plains home sale or purchase, please call us at 908-917-4189. We represent Hallmark realtors where our mission is to provide excellent customer service so that our clients become clients for life.