Does your home have Radon?
Radon is a naturally occurring radioactive gas that is emitted out of the ground and is found pretty much everywhere. Some areas have higher concentrations than others. Radon is linked to lung cancer.
You can have your property tested professionally for the presence of radon.   Tests are usually performed by leaving a special canister in the basement of the property for a few days, then the canister is analyzed in a lab and results are sent to you, usually within 24 hours.  
You can also purchase home radon kits. Home kits consist of a sealed tray that you place in the room you want tested and leave in place for 2-4 days. After that time, the kit is mailed to a lab to be tested. Here are two home kits that are readily available.
The First Alert RD! Radon Gas Test Kit retails for $10.06 which includes all test materials and lab fees except for the NJ State fees.  One test kit runs for 28-96 hours and covers up to 2000 square feet. Users can expect results within 72 hours of receipt.
The PRO-LAB Radon Gas Do It Yourself Test Kit sells for $8.73 and includes 2 test kits. Once the kits have been exposed to your air for 2 days, you send them to the lab along with a $40 lab analysis fee plus an additional $20 for homes in NJ. Results are sent within a week.
If the concentration is higher than 4.0 Pci/L, remediation equipment will need to be installed.   Usually, a remediation system runs around $1500 installed.  Once the system is in place Radon levels will drop to a safe level in a matter of hours.
Recently, the Patch posted an article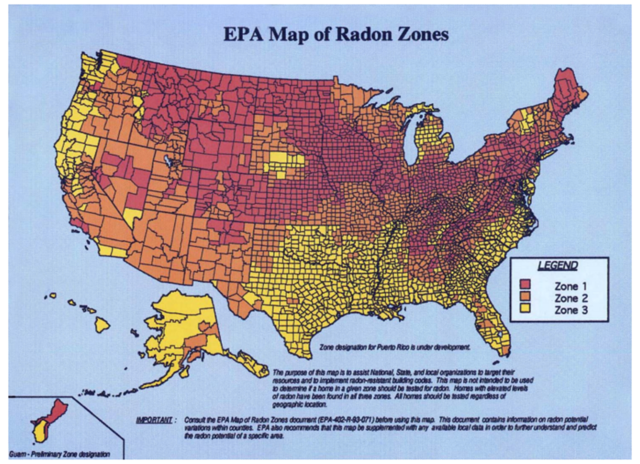 about some of the parts of New Jersey with high and low concentrations of Radon. Seven towns in Union county have  "moderate Radon risk," according to a new zoning map.  Those seven towns are Berkeley Heights, Summit, New Providence, Scotch Plains, Springfield, Westfield, and Clark.   Cranford is deemed "low risk" for Radon.  The Patch article contains the complete list and a map of Radon concentration in the state.
For information about purchasing a home, contact Team Zuhl today!
Remember, with Team Zuhl everything we touch turns to SOLD!!!