Do you know how much your Linden home is worth? Many factors affect the value of your home including condition and location but no factor is as important as the location of your home. Here's what's happening in the real estate market in Linden right now.
Inventory: Twenty four homes were sold in Linden in March, down 11% from the sales in March of 2016. There were 230 active listings in March, down 16% from March of 2016. Lower inventory usually drives up prices.
Prices: The homes that are currently offered for sale in Linden range in asking price from $99,900 to $549,000.
Almost half of the active inventory is priced in the $200,000-$300,000 price range and nearly 25% are offered below $200,000 making Linden very attractive to buyers.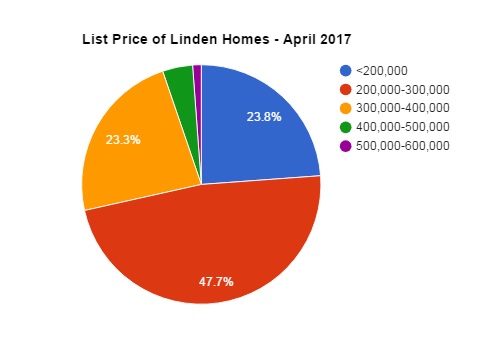 The average list price is $251,235, up 8% from March 2016. The average sale price of a home in Linden in March 2016 was $223,538, up 17% from last March.
Days on Market: Homes in Linden were sold in March after an average of 82 Days on the Market. This is down 25% from March of 2016.
If you'd like to see earlier market reports for Linden, please click here. To see how Team Zuhl can help you sell your home for the most money possible in the least time possible, please call us at 908-917-4189.