Offering your home for sale is frightening. Getting it sold requires a delicate balance of several factors including condition, marketing, and pricing. If you haven't balanced these three factors correctly, your home will likely sit on the market for a long time.
If your home has been listed for more than the average Days on Market in your neighborhood, it's important for you to determine the cause.
Possible Cause #1 – Condition
When we've listed homes that were in poor condition, we've sometimes asked our homeowners to look at comparably priced homes in their area to show them the condition that buyers are expecting in that price range. Search for homes in
your neighborhood in your price range and drive-by. Is your home's curb appeal equal to theirs? Ask your realtor to take you on a tour of their property and try to compare it honestly with yours. Is yours as clean as the competitors' houses? Is your property as well maintained as theirs?
If your home isn't selling because of its condition, then you need to improve its condition. Cleaning and decluttering, if you haven't done so yet, is an essential first step. Some sellers choose to take their home off the market temporarily and upgrade or update their home. Hiring a home stager will help it to show better.
If you're not willing to improve the condition of the home, then it will not sell in your current price range.
Possible Cause #2 – Marketing 
No one knows where the eventual buyer for your home is looking, so your marketing plan needs to be as broad and as diverse as possible. You want signage in front of your home as well as frequent Open Houses and a dedicated website for your hope featuring extensive descriptions, excellent photography, and a virtual tour. The best marketing includes enhanced listings on websites such as Realtor.com, Trulia.com, Zillow.com, Homes.com, and dozens of others as well as international marketing.
If your home isn't being marketed enough, the right buyers won't find it. Ask your Realtor for a copy of all of your listings. Try Googling your address and see what kind of internet exposure your home is getting.
If you're not pleased with the amount of marketing your home is getting, speak with your Realtor.
Possible Cause #3 – Pricing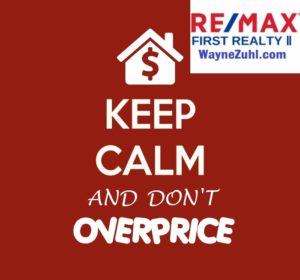 Imagine that you're in a grocery store. Two identical loaves of bread are sitting next to each other on the shelf – both are priced the same but one loaf of bread comes with a free pound of butter. If there is no additional value in the bread without the butter, you're going to buy the loaf with the butter. The same is true of your home. Buyers compare your home with the others in the same price range and choose the one that gives them more for the same money.
If you're not sure what your home is worth, your Realtor should be able to provide you with a Comparable Market Analysis that explains how the value of your home is calculated.
Luckily, you have control over all three possible causes.
All opinions, information and data provided is deemed reliable but is subject to errors and omissions. Not intended to solicit other Brokers' clients. We cooperate with them fully.