Are you experiencing fall allergy symptoms? Runny nose, itchy eyes – feels like spring hay fever but it's happening in the fall.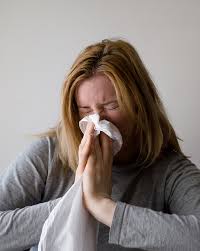 Warm piles of wet leaves are a breeding ground for mold spores, which can travel through the air for miles. As many as 10% of the population experiences mold allergies, according to Today.com, and this year's forecast is high. Mold grows especially in the fall when warm weather and rain allows growth.
What can you do? Experts suggest keeping your home mold free so that, even when there are plenty of spores outside, you'll still have a safe space.
Keep your home mold-free. Vacuum and dust regularly. Don't leave windows and doors open. Change your furnace filters. Clean the air with an air purifier. (Click here for the top 5 air purifiers under $100.)
If symptoms still bother you, see an allergist who will be able to identify the source of your discomfort and prescribe medicine to ease, or prevent, your symptoms.
Keep an eye on the allergy forecast and stay indoors when things are bad!