In real estate, the months of supply is a measure that real estate professionals use as an indicator of the strength of the real estate market in an area. It tells you how many months it would take for all of the homes currently offered for sale in an area to sell given the current monthly sales volume.
In general terms, a month's supply between 3 and 6 months is considered a normal market – there are roughly equal numbers of buyers and sellers in the area.
A higher months of supply indicates that there are more sellers than buyers in the area. We call that a buyers market because, often, buyers have more homes to choose from and have a competitive edge in the market.
A lower months of supply indicates that there are more buyers than sellers in the area. We call that a sellers market.
How are things in Union County this fall?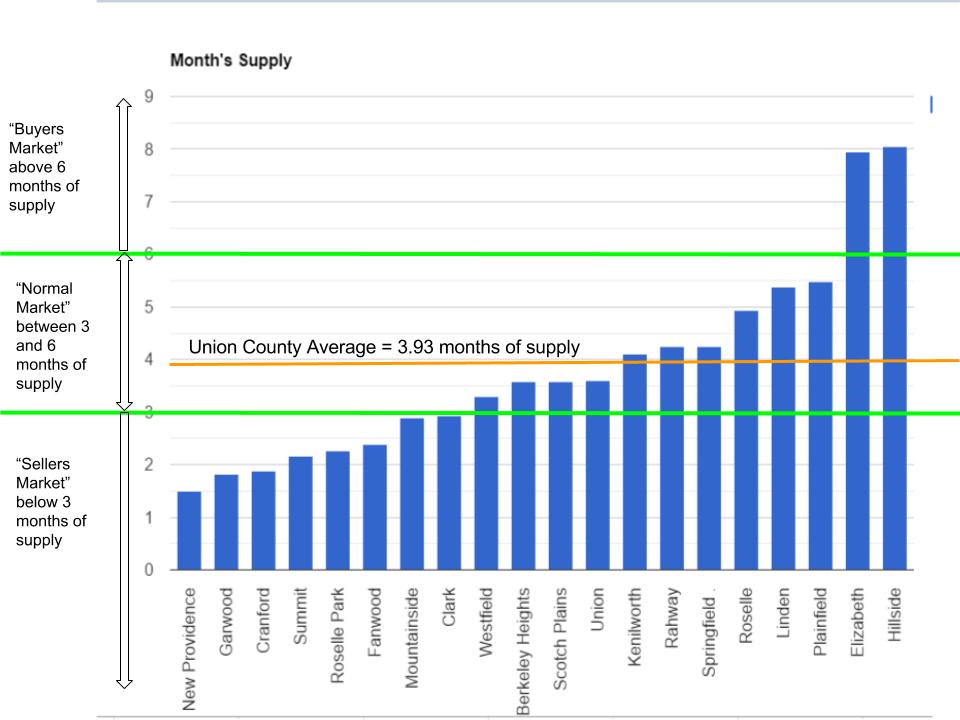 Buyers Markets in Union County
Two towns in Union County – Hillside and Elizabeth – are seeing a buyers market with months of inventory near 8 months. Buyers can expect to find good prices for the value of a home. Sellers can compete more strongly if they price their home at market value and invest in home repairs. A strong marketing campaign is essential in these towns.
Normal Markets in Union County
In Union County, Linden, Roselle, Springfield, Rahway, Kenilworth, Union, Scotch Plains, Berkeley Heights, and Westfield are experiencing a normal market. There are roughly the same number of buyers as there are sellers and homes are selling at their value. Sellers who want to stand out in the crowd can invest some time and money in making home repairs to make their home more appealing to buyers. A marketing campaign that is managed by a professional real estate salesperson will help your home to be seen by more buyers.
Sellers Markets in Union County
Towns in Union County where a sellers market can be seen are Clark, Mountainside, Fanwood, Roselle Park, Summit, Cranford, Garwood, and New Providence. Sellers can expect that there homes will sell quickly and may even experience a bidding war. Buyers in these towns should be prepared to act fast when they find the home that they want to buy. Sellers will want to be represented by a real estate professional who is skilled at negotiation.
If you're curious how your home will sell in today's real estate market, give us a call at 908-917-4189 for your free Comparative Market Analysis.