The bane of my existence – clutter!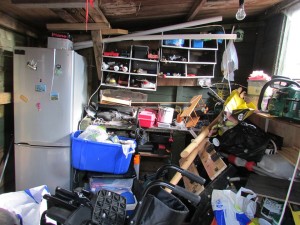 With a one hour commitment per day for one month, you can change your home and your life by eliminating what you don't need. If it takes more than an hour, just do what you can do in that hour. Trust me, you'll feel so good once your house starts to lighten up that you'll want to go back at the end and finish the job!
Here's the plan – each day, you tackle one sore spot.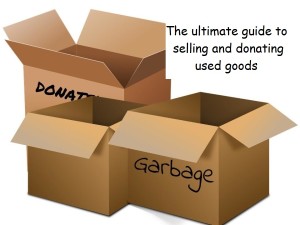 Every item in that location is either kept, discarded, sold or donated.

Here are some great local places to sell or donate your usable items.

Your goal is to keep less than 1/3 of what you find in each location.
Days 1-4 – Clean out one junk drawers each day.  I use plastic baggies to keep similar items – rubber bands, paper clips, batteries, etc.
Day 5-6 – Clean out your book cases and movie collection.
Days 7-12 – Clean out half of one closet per day. If it doesn't fit, can't be mended, or has stains that won't come out, get rid of it.
Days 13-19 –  Clean out one kitchen cabinet and one drawer each day. Get rid of doubles and things you never use. I had warped cookie pans, rusted whisks, and melted spatulas. Ridiculous to take up space with such things!
Day 19-20 – Organize your linen closet. I had dozens of blankets and dozens of bottles of shampoo and tubes of toothpaste purchased on sale and donated them to the women's shelter.
Day 21 – Clean out your bathroom cabinets. Dispose of medicine that's expired and products you no longer use.
Day 22 – Empty your refrigerator. Wipe the shelves. Replace what isn't spoiled.
Day 23 – Empty the freezer. Wipe the shelves. Throw away the freezer burned or unrecognizable leftovers.
Days 24-25 – Organize your china closet.
Day 26 – Organize your cleaning supplies. I keep mine under the kitchen sink and it needs to be purged several times a year.
Days 27-28 – Purge your old toys, games, video games.
Day 29 – Get rid of extra furniture and lamps. Less is more.
Day 30 – Now that your kitchen cabinets and drawers are organized and clean, clear off your kitchen table and counters. Put away as much as you can without sacrificing efficiency. We hardly ever use the toaster so I keep it in a cabinet, but our coffee maker is used daily so it stays on the counter.
Did you notice we didn't include the garage in this project? Save that for next month!
Ahhh! Admire your new home! Don't you love the way it feels? Now, promise yourself you'll keep it that way!