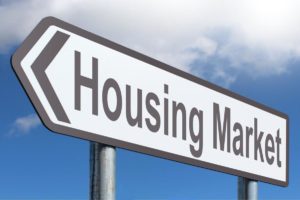 Usually, Spring is the busiest time of the year in real estate.  That trend has changed a bit recently.  Since mid-March of 2020, when the lockdown started and many sellers took their homes off the market, inventory in Clark has stayed low.
There are many reasons for this: people were wary about strangers coming into their homes and risking possible infection, there were layoffs, companies shutting down, and many other factors that figured into the equation.    So, from mid-March until early-May of 2020 the number of homes on the market, as well as those going under contract (meaning that they've accepted an offer and agreed to all the terms) decreased at historic rates.  Prior to the pandemic, inventory was already low and we were in a growing seller's market, meaning that there are more buyers than sellers.  This gives sellers the upper hand.  Now we are experiencing historic lows in inventory.
Then in the Spring of 2020, as the weather began warming up, the great urban exodus began.  Suddenly, lots of people, especially those living in New York City, were looking to move to towns like Clark where things are more spread out.  So from mid-May through the end of 2020, the market in Clark was going crazy, with the exception of the number of homes coming on the market, leaving the inventory at very low levels.  As new homes hit the market, there would be a frenzy of showings that would usually result in multiple offers coming in on the home.  A great situation for sellers, but not so great for buyers.  This scenario leads to bidding wars and rising prices.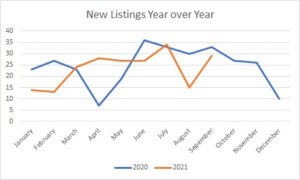 However, this is great news if you already own a home or are thinking about selling.  It's likely that you'll be able to sell your home for more than you thought it was worth and it should sell quickly.
With fewer homes and more buyers coming on the market, statistics show that the largest percentage of buyers in New Jersey are millennials, which is a new factor in the equation.  Combine low inventory, a new generation of buyers and people leaving the cities to come to towns like Clark and you have the formula for a very strong seller's market that should continue for some time.
In 2020 the median sale price in Clark rose more than 15%!  So far in 2021, prices have risen another 16%!!  Over the last 2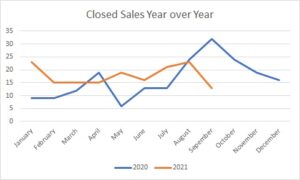 years, the median home price in Clark has risen by just over 31%!!!  In fact, several leading forecasters are predicting that inventory will remain low and prices will continue to rise through the end of 2022.  They also forecast that in 2022 prices will rise by another 5 percent!  Great news if you've been in your home and are considering selling.
What will happen after 2022?
The leading industry forecasters are predicting that there will be a correction in the market in 2023.  Prices will likely drop, anywhere from 1% to 5% for a year or two.  After the market correction, we should return to a normal market where prices rise 2-3% per year.
Thinking about buying a house in Clark?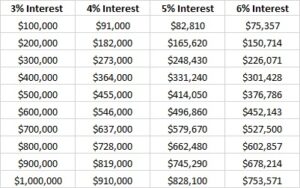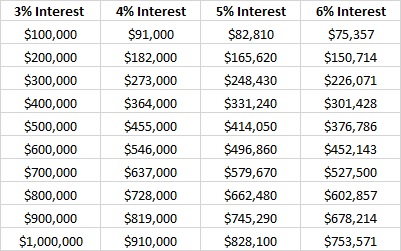 The question I get from most buyers is: "Should I wait?" My answer is a resounding "NO! Don't wait, buy now!"  With interest rates still at very low levels, buyers have more purchasing power and my advice would be to buy now.  If you think about it this way, for every 1% rise in interest rates, buyers lose 9% of buying power.  Suppose that you are qualified to buy a $400,000 house with a 5% down payment and an interest rate on your mortgage of 3%.  What if the interest rate rises to 4%?  Now, you'll only qualify to buy a house for $364,000.  That's a big difference, and your monthly payment will be nearly the same for both.  The chart on the right shows buying power with today's rates, which are around 3% and how that buying power would change at different price points.
The bottom line is to buy now, it makes financial sense.  Should prices fall as predicted?  Likely the interest rates will rise.  You're likely to get more bang for your buck now than if you wait.
Thinking of buying?  Here's our free Buyer's Guide.
Are you thinking about selling?
If so, don't wait, do it!  The market that we're in right now is an amazing time to sell your home.  Most of our recent listings have had one day of showings, usually at an Open House, and are getting multiple offers and selling over list price!  Very simply put, in this market, if homes are priced properly, they will sell quickly and in most cases above list price.  As we now know, there are more buyers than sellers, and the buyers want to buy.  As a seller, the market is working in your favor, if you're ready to make a move, you're likely to get more equity out of your home than you thought you could.  Doing so now will enable you to move into a nicer home, have more cash on hand or both.
Thinking of selling your home? Take a look at our free Seller's Guide.
Whether you choose to sell, buy, or just wait, know that I'm here for all your real estate needs.  Feel free to contact me with any questions you have.  If you'd like monthly or quarterly updates on Cranford or any town in the area, just let me know.
All opinions, information and data provided are deemed reliable but are subject to errors and omissions. Not intended to solicit other Brokers' clients. We cooperate with them fully.