If you're thinking about buying or selling a home in Clark, the first step you should take is to educate yourself about how the real estate market is doing in Clark.
Here's what you need to know for November, 2016.
Inventory: There are currently 76 single family homes offered for sale in Clark ranging in price from $147,900 to $1,199,750.   Fifteen homes were sold in October which is about 9% higher than the average over the last 12 months. The homes sold in June represented 19% of the active listings. This graph puts it into perspective. The red line shows the listings per month since 2012. Annual patterns are pretty easy to see here with the peaks being summer months and the valleys being winter months. You'll notice that currently, on the right of the graph, that this past summer had an unusually high inventory for Clark. The law of supply and demand would predict that higher inventory would result in lower prices. The straight red line represents the trend over the past 4 years and it shows a strong decrease in inventory which is typically good for home sellers.  The blue line at the bottom shows the number of homes sold over the past 4 years. The light blue straight trend line shows a definite increase over that time which helps to reduce the inventory even more.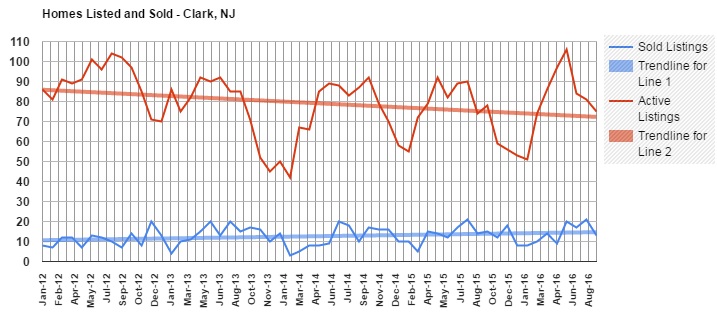 Prices: In October, 2016, the average sold home in Clark was sold for $451,663 which is about 5% higher than the 12 month average. This graph shows the average sale price for the last 4 years. It shows some variability from one month to another with a  little decrease this month compared to last. The black straight line behind the graph is the trend line which factors in long term trends in Clark real estate prices. The trend line shows a definite upward trend – in fact, the trend line is showing that, when all is considered, the average sale price 4 years ago was around $360,000 and now we're looking at numbers closer to 430,000 which shows an increase of about 19%  return on investment over 4 years.

Days on Market: The 3 factors that affect how long it will take to sell your home are price, condition, and marketing. In October of 2016, the average sold home was sold after 60 days – that's a huge slowdown from the very rapid sales we saw this summer but not unusually slow for October.
Looking at the graph, we continue to  see an increase in stability in the length of time it takes to sell a Clark home. We're also pleased to see the trend line here showing that the length of an average listing continues to improve from about 80 days 4 years ago to averaging about 40 days now – more than a month faster.

If we can help you with your Clark home sale or purchase, please call us at 908-917-4189. We proudly represent Hallmark realtors where our mission is to provide excellent customer service so that our clients become clients for life.