Background:
On June 26, 1777, Union County was the site of the Battle of Short Hills.  The battle took place primarily in Scotch Plains and Metuchen.
George Washington's Continental Army had left Morristown to a strong position in the Watchung Mountains, a very difficult place for the British Army, led by General William Howe, to attack. It was also a great place for Washington and his men to observe what Howe's troops were doing. In early June, Washington learned that Howe was moving his troops north along the Raritan River in an apparent attempt to lure Washington out of the mountains.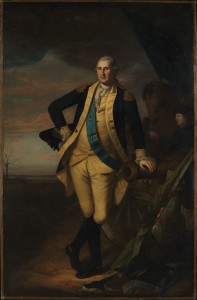 After several days, Washington and his army refused to leave the mountains and Howe eventually gave up, retreating back south toward Perth Amboy.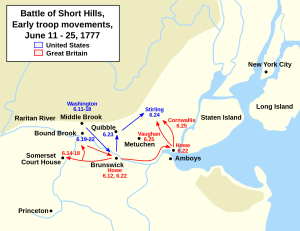 Washington and his men followed the retreating British army. Ashe and his troops left the mountains, Howe moved two columns of troops, led by General Charles Cornwallis, north to try to prevent the Continental Army from returning to the mountains.
A battle ensued. The British launched cannon fire and the Continental Army retreated toward Westfield. Howe retreated toward Philadelphia and Washington's troops went back into the mountains.
British casualties numbered 5 deaths and 30 wounded. The Continental Army lost as many as 100 men although reports vary. Some reports claim that an additional  70 men were captured along with 3 cannons.
The site of the battle is about 300 acres in Edison Township and is listed on the National Register of Historic Places.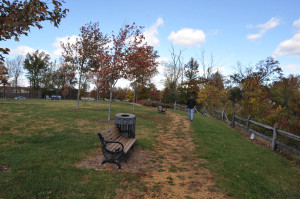 Reenactment:
Oak Ridge Park in Clark will be the site of a reenactment of the Battle of Short Hills this weekend, June 24 and 25. Visitors are welcome to see the dramatic battles and the everyday challenges of army camp life.  Events will be held from 10 am to 4 pm on both days. A schedule of activities can be found at ucnj.org/parks-recreation.
Entrance and parking is free. Food trucks will be on site. The reenactment is a project of the Brigade of the American Revolution and is sponsored by the Freeholder Board.
Events begin at Oak Ridge Park at 6:30 on Friday, June 23rd with a free yoga class. Then, at 7:30, the New Jersey Symphony Orchestra will present a free performance of their musical "Road Trip Across the USA.".