This past Saturday, October 1st was a grey and dreary day, but thankfully the rain held off and the Homecoming Harvest Festival went off without a hitch!  The event was planned by members of the Frazee House, the Scotch Plains – Fanwood Community Garden and the Fanwood – Scotch Plains Rotary Club.
The Scotch Plai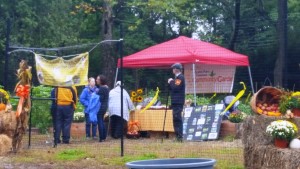 ns-Fanwood Community Garden broke ground earlier this year at the Frazee House property on Terrill Road in Scotch Plains.  The garden consists of several above ground plots that are rented to residents on a first come – first served basis.  Several residents elected to give some or all of their harvest to the El Centro Foodbank in Plainfield.
To celebrate the harvest, there were three food trucks, a petting zoo, several vendors and of course the garden was open for tours.  There was a DJ, live music and square dancing.  There was even an actress dressed as Aunt Betty Frazee!  The FSP Rotary had a booth displaying information and even had Beads of Hope for sale.  Hundreds of people attended the event, which had NO charge for admission.  Parking for the event was at the Vocational School, as a shuttle bus r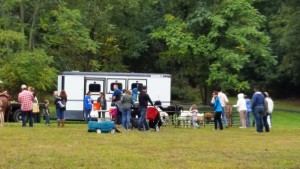 an all day long.
The event was a fantastic success and hopefully next year the weather will be a bit nicer.
The Scotch Plains – Fanwood Community Garden volunteers want to thank all the volunteers and the Event Sponsors, MLB Mortgage, Portasoft and Nourison.
All opinions, information and data provided is deemed reliable but is subject to errors and omissions. Not intended to solicit other Brokers' clients. We cooperate with them fully.